The Most Delicious Restaurants in La Quinta, CA
If you're looking for the best restaurants in La Quinta, California, you'll be spoiled for choice. Regardless of the type of cuisine you're craving, there's something to settle every appetite in our quaint Coachella Valley town. While La Quinta really thrives with their incredible high-end restaurant options, there are a few delicious options for all budgets and moods.
Although all of our vacation rental homes on PGA West have fully-equipped kitchens with everything you need to whip up a great meal, while on holiday, we suggest you take at least a few nights out to enjoy the best restaurants La Quinta has to offer.
To be on the safe side, we recommend you book a reservation at least a few days in advance. Since these restaurants are all so great, they're really sought after, especially for a weekend dinner.
If you are looking for the perfect eatery, take a look at some of the best restaurants in the local area, and maximize your dining experience with some great food in the greater Palm Springs, California area!
1. Morgan's in the Desert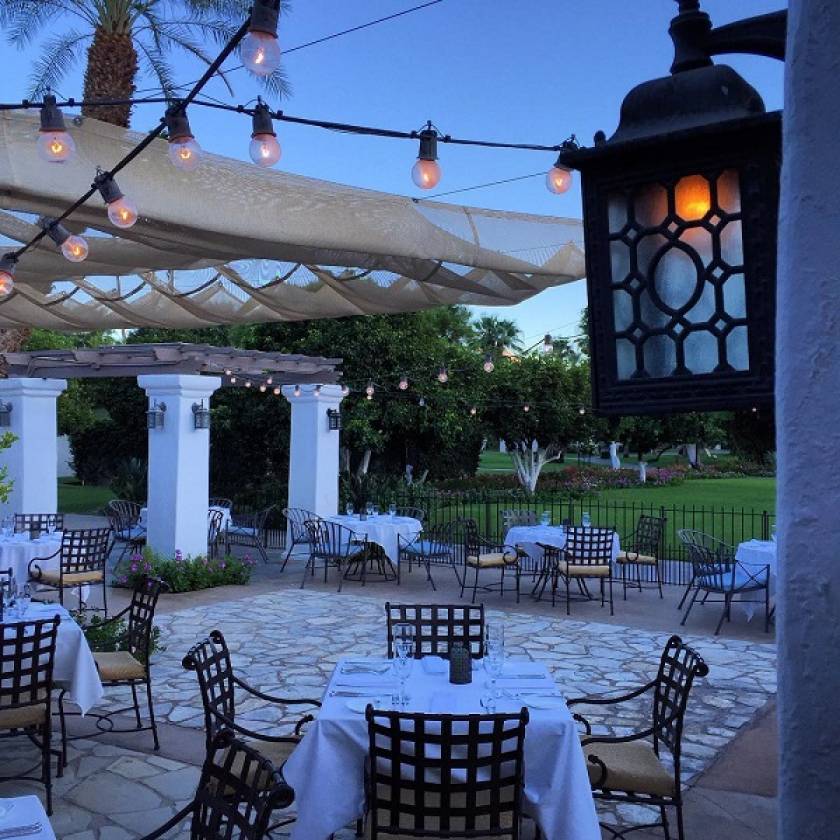 If you are looking for a delicious meal in the local area, then look no further than Morgan's in the Desert, which you can find at the La Quinta Resort & Club. This is a restaurant that has been open since 1926, and it was originally created as a place for a lot of family members and friends to gather together and dine, particularly those who run in celebrity circles.
It is all about elegance, the plating leaves absolutely nothing to be desired, and you will fall in love with the local produce. The ingredients used here are all locally sourced so you know you're getting the freshest food possible when you dine in the romantic ambiance. If you were looking for a delicious meal in the local area, look no further than Morgan's.
2. Cork & Fork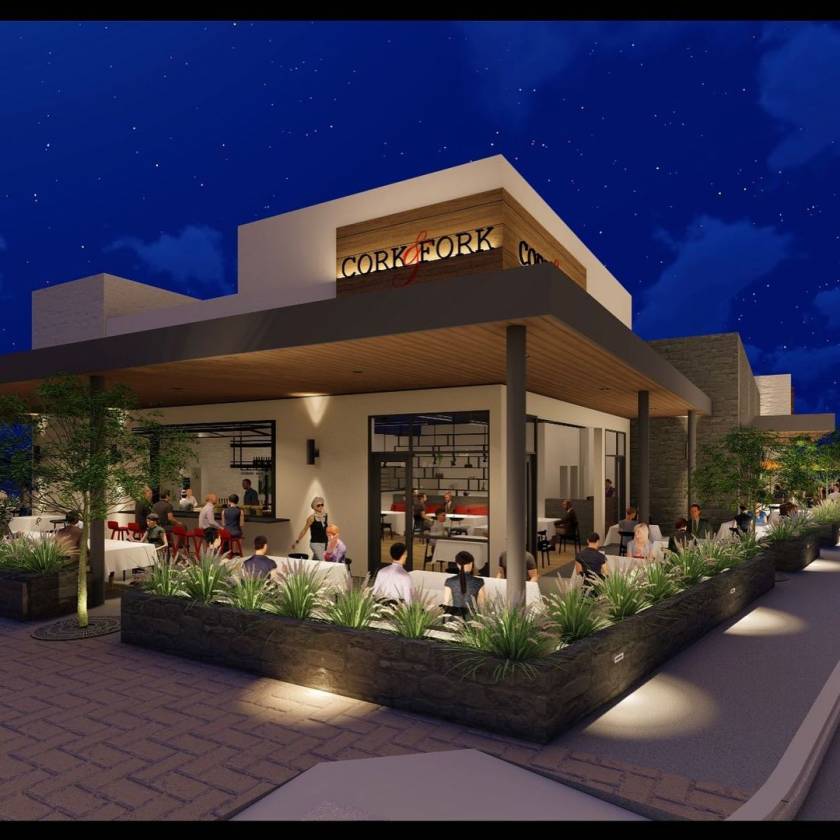 For a restaurant that has a bit of everything, I suggest dining at Cork and Fork. This is a restaurant that is known for its unique menu, and it rotates a lot of the menu items from time to time. The waiters are well-versed on any menu change and will guide you through the daily specials so you can be confident in the meal you order.
Cork & Fork has won the most awards out of any other restaurant in La Quinta, so you can rest assured you'll have a great meal while here. They start serving dinner as early as 4 p.m. and treat the early birds to happy hour from 4 - 5 p.m. The restaurant also does takeout and delivery.
3. Enzo's Bistro and Bar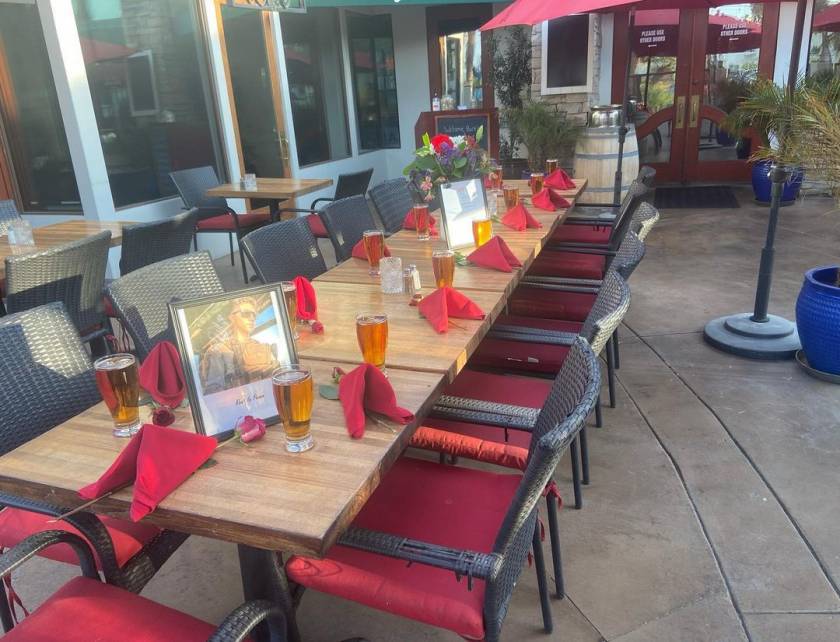 Enzo's Bistro and Bar has 3 locations, two in California and one in Washington State. There's a reason this spot is spreading, it's just that good! If you are in the mood for authentic Italian food, then you should definitely visit Enzo's. This is one of the most popular restaurants in the area, and you'll quickly see why the moment you take your first bite of pasta. It is better than anything you might have had before, short of flying over to Italy for the real deal.
What really sets it apart is the homemade sauces. There are plenty of sauces available, and there are lots of specials that are served from time to time as well. If you can't decide which meal to choose, your waiter or waitress will be more than happy to recommend some local favorites.
4. Adobe Grill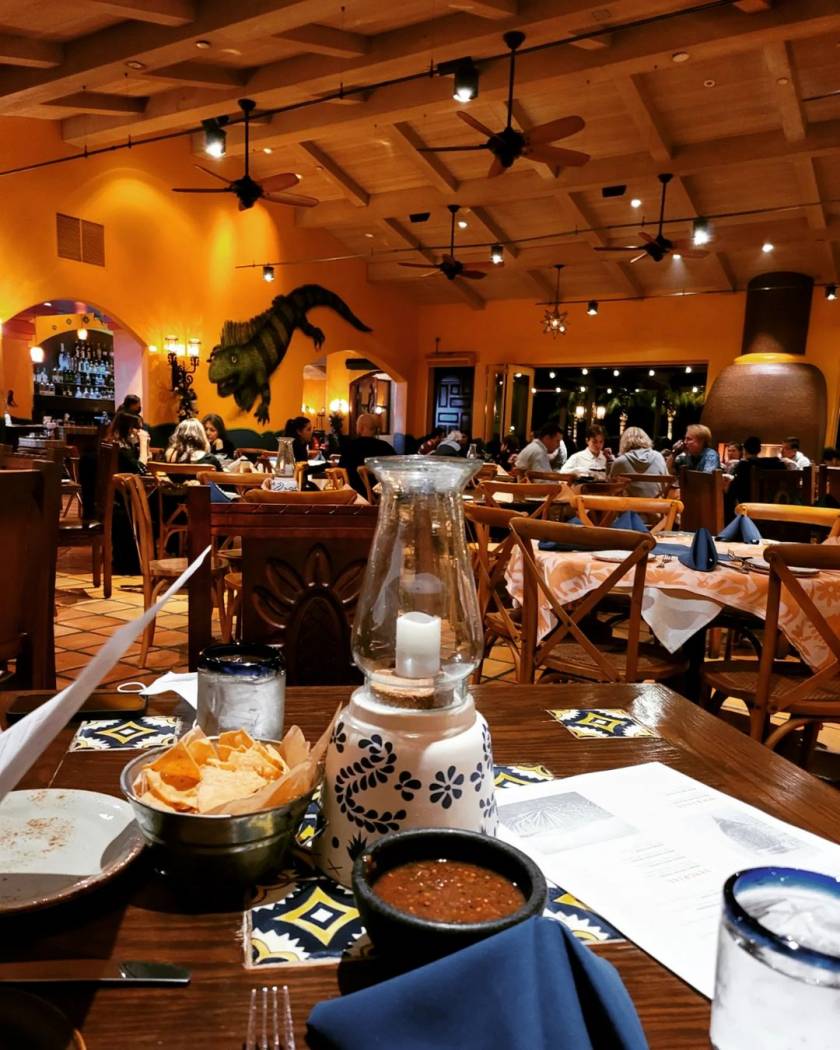 Craving a bespoke margarita? That's right, a margarita created just for you from one of their 100 types of tequila. Along with the drink of your choice, you'll be treated to authentic Mexican food in an ambiance that will make you feel as though you've crossed the border to Mexico.
We're sure you won't find better Mexican food anywhere in the Coachella Valley than at Adobe Grill. All of the meals look absolutely beautiful, all of the flavors are unparalleled, and you will fall in love with just about everything that lands on your plate.
5. The Grill on Main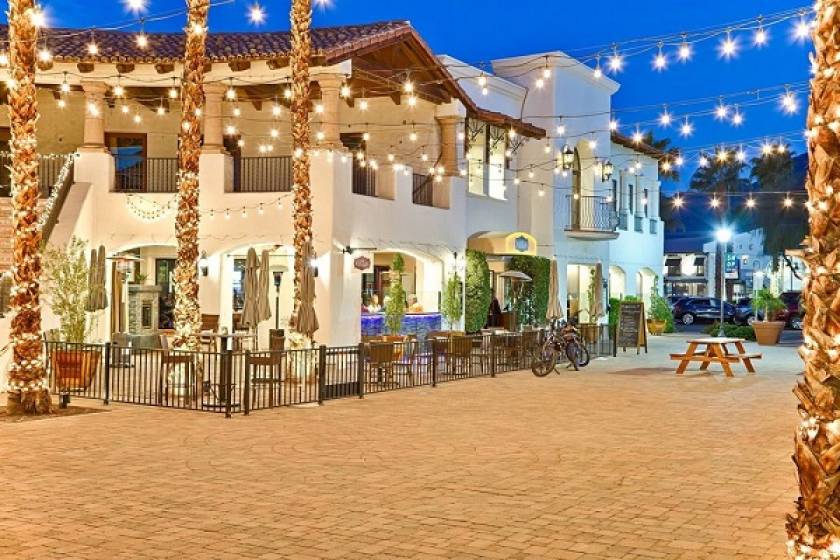 Looking for a great place to satisfy even the pickiest eaters in your group? The Grill on Main is the perfect option. Offering American cuisine with a twist, their menu offers a variety of favorites from steaks to pasta and seafood to sandwiches. For seafood lovers, you'll be extra impressed by their most sought-after dish: the Jumbo Scallops Carbonara.
You should also take a look at the impressive drink list. There are a lot of great cocktails available, and the wait staff would be happy to help you find the perfect option to pair with your meal. Don't forget to take a look at the happy hour specials, offered from 3 - 6 p.m daily, as you can certainly get great value at this restaurant.
6. Lavender Bistro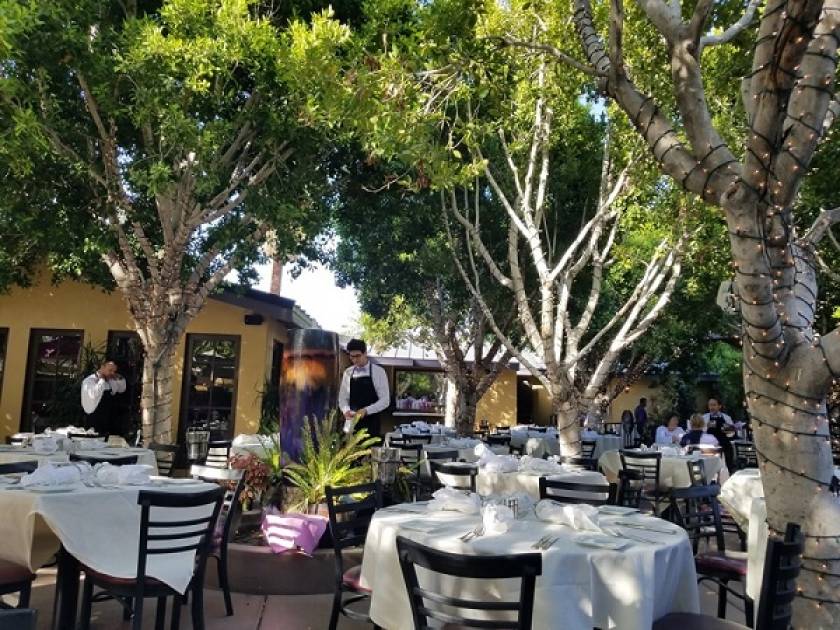 For dining outside under the stars on their outdoor patio, check out Lavender Bistro. This is a restaurant that has just about everything you could possibly imagine, including pasta, fresh meat, soups, and seafood. Everything is in season, and many of the ingredients are local to the area.
It is also one of the most popular restaurants because the ambiance is absolutely amazing. You'll love dining under the fairy lights strung between the trees in the garden while enjoying a delicious meal, giving you an opportunity to spend some quality time with family members and friends.
*July 2022 Note: Lavender Bistro is temporarily closed. We'll update this list when the restaurant is back open.
7. La Brasserie Bistro and Bar
In the mood for authentic French cuisine? La Brasserie Bistro and Bar is simply one of the best choices of restaurants in the area. Settled farther into the valley, you'll be able to dine al fresco in their upscale patio, with the Santa Rosa Mountains all around you. On days when the weather isn't cooperating, they have a cozy indoor dining room, as well. The name of the restaurant, La Brasserie, refers to an unpretentious restaurant that serves drinks and classic Parisian favorites.
Here you'll quickly see the juxtaposition between high-end dining in a casual yet charming environment. This combination makes it a truly unique dining experience, that's great for a cocktail dress and heels and equally jeans and a top. Just be sure to enjoy your note with a classic French treat, creme brulee. It's truly delectable here!
8. Stuft Pizza Bar & Grill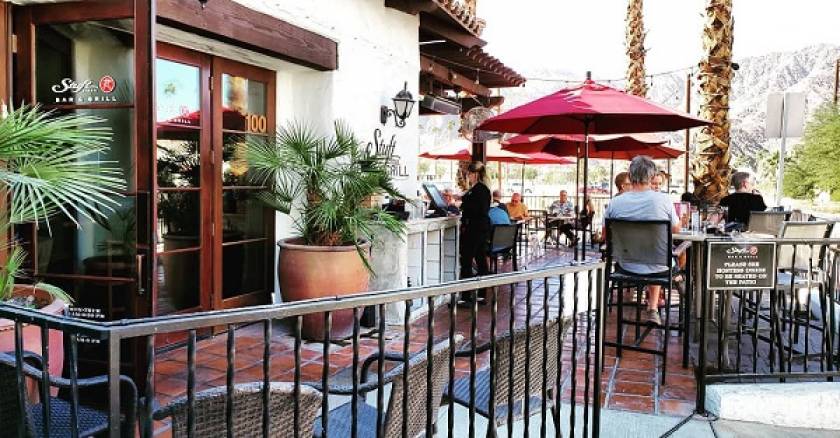 Based on a now chain pizza restaurant, the location in La Quinta is something completely unique. You'll still be able to enjoy a pizza with the original recipe that turned Stuft from being a one an over the counter grab and go pizza place into the phenomenon it is today. The original owners of Stuft run the two locations in the Valley and have put a delicious twist on the original pizzeria.
At the La Quinta location, you'll find a menu with a bigger variety than just pizza, plus a wine list that will leave any European restaurant envious and a beer list to rival any American-style bar. Enjoy dining inside or out, but if you want to take advantage of Happy Hour, just be sure to arrive from 3 - 6 p.m.
9. La Quinta Brewing Co - Old Town Taproom and Grill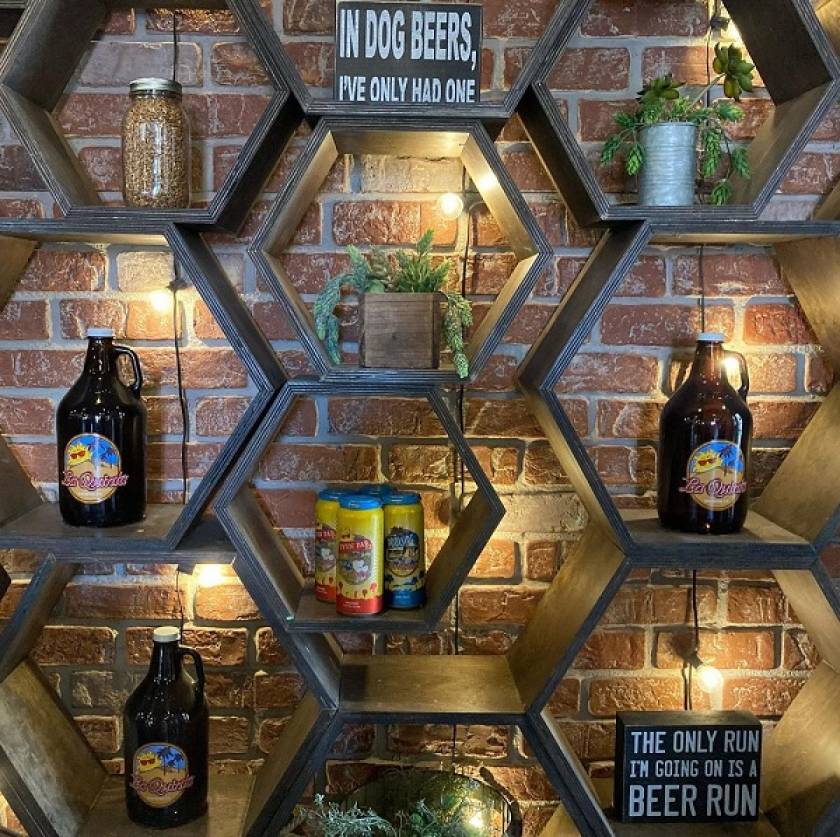 With a few locations throughout the Valley, you won't be surprised by their popularity the moment you take your first sip of a La Quinta Brewing beer. In La Quinta, the taproom and grill is in the heart of Old Town, so this is the perfect place to stop for a drink or a bite to eat either before, after, or during a stroll through downtown. It is one of the most popular breweries in the area, and there are a lot of new beers on tap from time to time.
From sour beers to IPAs, you should be able to find exactly what you're looking for. You can even order some high quality bar food to appease your appetite while you have a beer or two. If you are looking for something that serves delicious beer along with quick bites, La Quinta Brewing Co is for you.
10. LG's Prime Steakhouse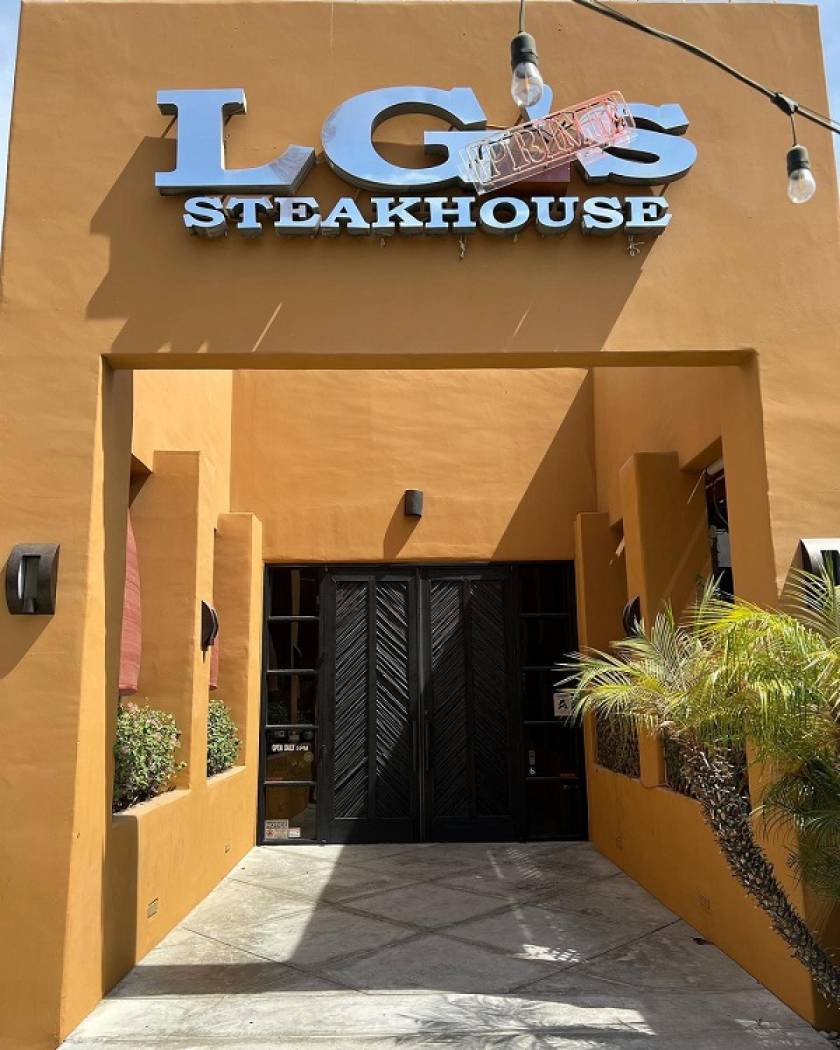 If you are looking for the best steak in the area, this is definitely the place to go. You can find just about every cut imaginable, ranging from your traditional filet to a massive porterhouse. All of the steak is cooked to perfection, and there are plenty of sides you can add to your meal. Any steak lover will highly enjoy their meal at LG's Prime Steakhouse.
LG's is also a great option if you're hoping to book a private room for a celebration or simply to have some privacy with your friends or family. Their private room is covered completely in wood paneling and wines from floor to ceiling. It's a great backdrop for any special night out.
11. La Quinta Cliffhouse Grill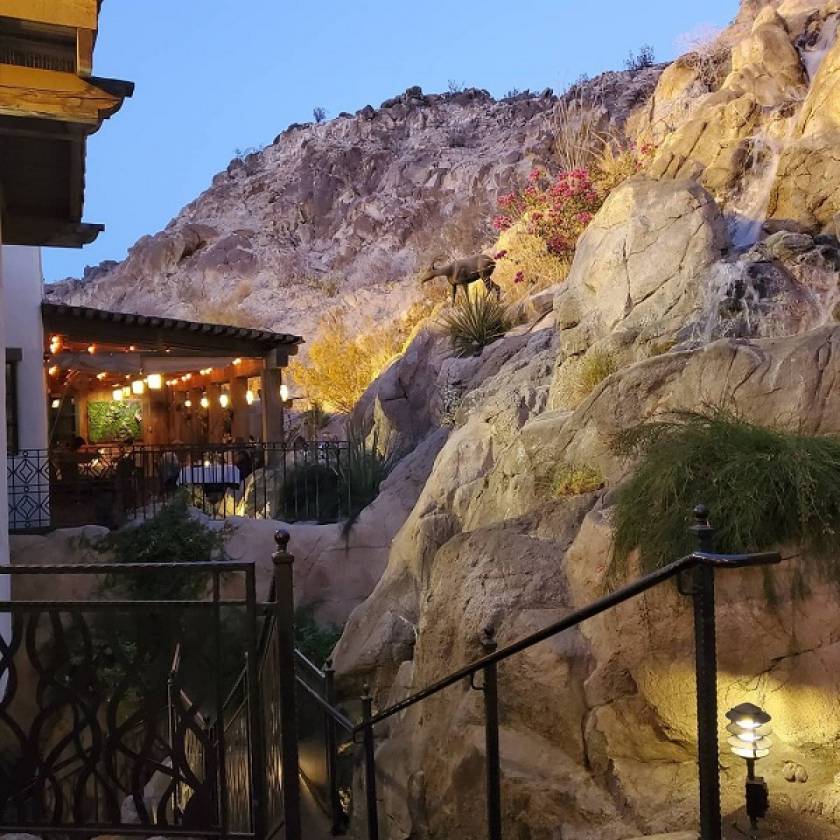 As the name implies, this restaurant is truly something special. Built on a cliff, offering you incredible views of the Coachella Valley, La Quinta Cliffhouse Grill will not disappoint. Known as a hidden gem among Palm Springs locals, you'll enjoy the food, the cocktails, and the environment here.
Recently remodeled, choose to dine inside in their vibrant dining room or outdoors on their cozy patio, or come back twice so you can get both a try! This restaurant has a wide variety of seafood on the menu, but also offers salads, red meat, and pasta so you'll have plenty of options to choose from.
With this expansive list, you're ready to eat at the best restaurants in La Quinta, CA. The only decision you're left to make is which one will you try first?