Most Delicious Brunch Spots in Greater Palm Springs
Nestled in the Coachella Valley of California, Palm Springs is a desert paradise that boasts not only sunny skies and warm weather but also a vibrant dining scene.
The city's brunch offerings are no exception, with a range of eclectic eateries serving up delicious dishes to suit every taste. From cozy cafes to trendy rooftop restaurants, you won't be left hungry during a getaway stay at one of our vacation homes.
In this guide, we'll explore some of the most delicious brunch spots in Palm Springs and La Quinta, so you can start planning your next brunch adventure in this sunny desert oasis.
Fortun's Kitchen + Bar

Photo Credit: chaechaebyv
Address: 78085 Avenida La Fonda, La Quinta, CA
Price: $$$
Is there anything better than a stroll in Old Town La Quinta followed by a leisurely brunch? Fortun's Kitchen + Bar thinks not! A Resort Home Destination favorite, the relaxed setting, complete with plenty of outdoor seating, begs you to eat your eggs a little slower and savor your Sunday.
Fortun's is centrally located next to Old Town, making it the perfect place to start your day or wind it down early! Their brunch menu features leveled-up favorites like a decadent Granier Marnier-soaked French Toast with baked brioche and fresh berries.
In the breakfast meets lunch spirit, you can have both with the Fortun's Filet Mignon & Eggs, which features sautéed spinach, roasted zucchini poached eggs, hollandaise, and cheese grits all made even better by a jalapeño gravy. Then, wash it all down with a choice from the Tiny Bubbles menu, and your luxurious weekend brunch will be complete!
Brunch at Fortun's is served from 10.00 am to 2.00 pm each Saturday and Sunday.
Cafe des Beaux-Arts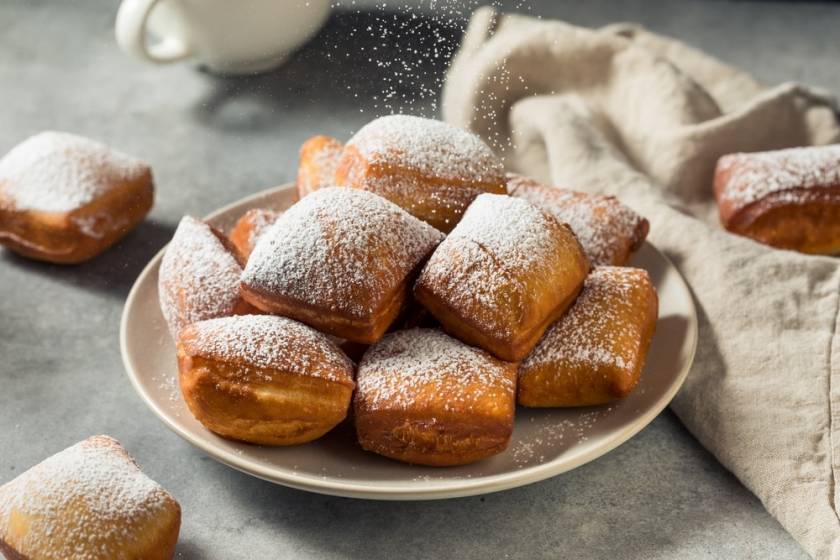 Photo Credit: Brent Hofacker
Cafe des Beaux-Arts offers a brunch with a traditional French twist in a quaint cafe setting. Located in the trendy El Paseo neighborhood, this art-filled gem with Parisian-inspired decor could easily be at home as a sidewalk cafe on Les Champs Elysée.
The lighter brunch fare here is heavy on flair! The a la carte menu features New Orleans beignets, leveled-up avocado toast, or bagel with lox.
For those who are coming with an appetite, you won't be disappointed with house favorites like the Eggs Beaux Art topped with a crab cake, spinach, and house hollandaise sauce. Of course, no brunch is complete without a decadent Beauz-Arts Mary with Grey Goose, celery, and finely salted rim.
Brunch at this cafe is so beloved that it is extended past the traditional weekend and served Friday through Monday from 8.00 am to 11.00 am and on Sunday until 3.00 pm.
Farm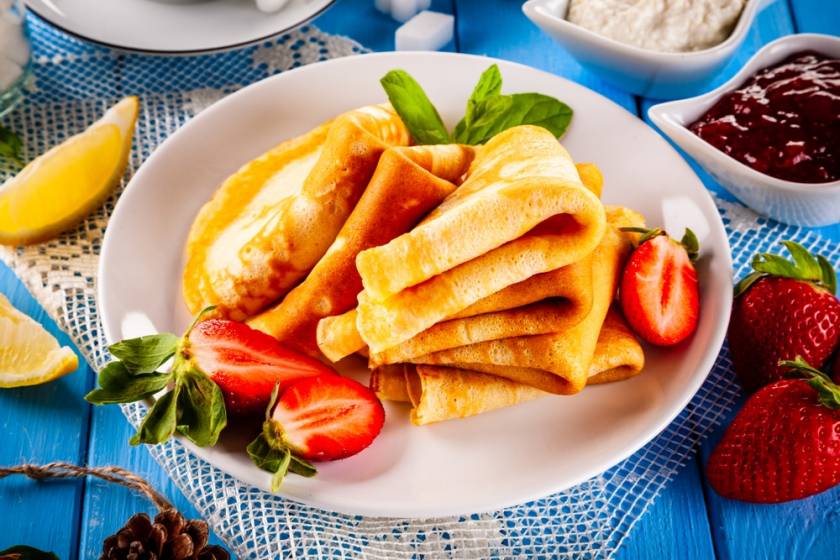 Photo Credit: Jacek Chabraszewski
Address: 6 La Plaza, Palm Springs, CA
Price: $$
Located in Downtown Palm Springs, Farm is a chic, intimate, farm-to-table restaurant with its cuisine and ambiance modeled after the South of France.
The restaurant's lovely garden-style patio creates a warm, welcoming atmosphere perfect for leisurely weekend brunch. Their menu showcases the best of California's fresh and seasonal produce while also incorporating classic French flavors and techniques.
Dishes like the Citron et Fraises Sweet Crepes, Poulet a La Creme savory crepes, and their delicious Farm Breakfast Sandwich are just a few examples of their delicious brunch items available, not to mention bottomless mimosas!
If you're looking for a delicious, elegant, and upscale brunch option in Palm Springs, Farm is a fantastic choice.
Cheeky's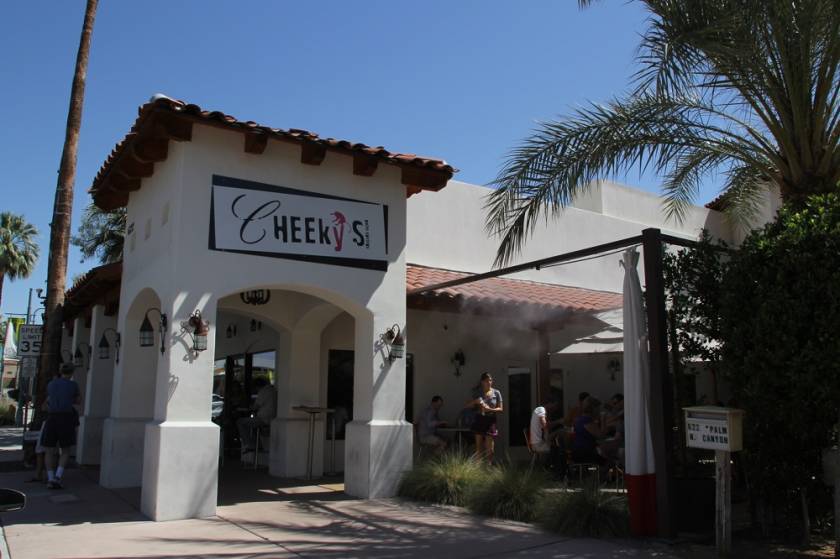 Photo Credit: jshyun via Flickr CC2.0
Address: 622 N Palm Canyon Drive, Palm Springs, CA
Price: $$
Cheeky's is another highly recommendable brunch spot, thanks to its fresh and flavorful menu offerings and fun, energetic atmosphere.
This Palm Springs brunch spot is unique because they have their own chickens, which provide fresh eggs, a vital component to several dishes, including the delicious Huevos Rancheros and Custard Cheesy Scrambled Eggs.
The breakfast menu at Cheeky's includes their Polenta & Sausage Skillet, along with their unique bacon flight that includes selections like Nodine's applewood, tahini beelers apple cinnamon, pineapple glaze, and jalapeño bacon. They also have gluten-free waffles for those looking for the holy grail wheat-free breakfast treats!
Cheeky's also offers a variety of fresh-squeezed juices and cocktails, along with their house-made Morning Margarita and famous Spicy Bloody Mary if you're looking to have a boozy brunch. Finally, no trip to Cheeky's is complete without sampling their famous cinnamon rolls- they sell out daily, so be sure to make it in early if you want to snag one!
Wilma & Frieda's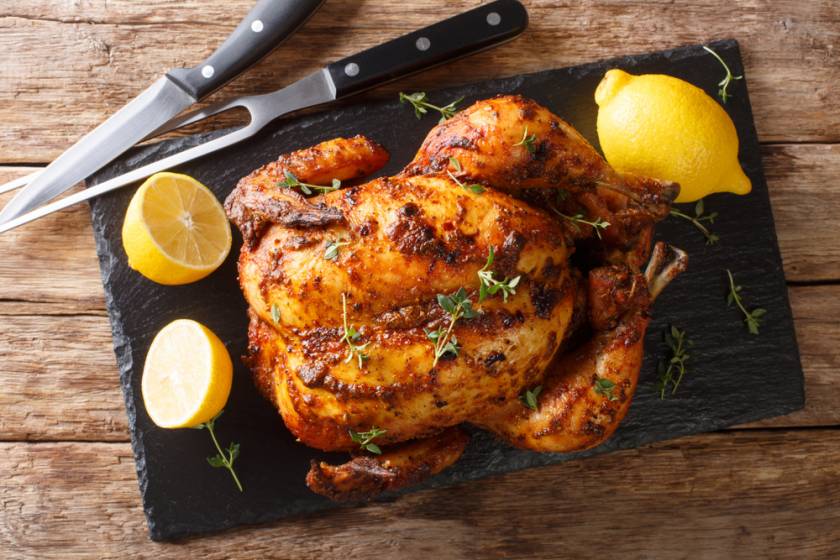 Photo Credit: AS Foodstudio
Address: 73575 El Paseo #2310, Palm Desert, CA
Price: $$-$$$
El Paseo Shopping District is one of the best locations for window shopping in Palm Springs amongst the gorgeous backdrop of the Palm Desert. And if you are looking for a pre or post shopping bite to eat? Look no further than Wilma & Frieda's for the best retro brunch!
This spot is one of our top contenders for the best Sunday Brunch in Palm Springs, offering a unique twist on comfort food in a traditional farmhouse-style cafe setting.
Named after the founders two grandmothers, Wilma & Frieda's has received several awards, including the Best Brunch of 2022 by Best of the Best and the Desert Sun Award for Best Breakfast of 2020, highlighting its popularity among locals and visitors alike.
Their extensive brunch menu features classics as well as unique dishes like Signature Griddled Meatloaf and Eggs, Roasted Chicken & Crispy Mustard Bacon Sandwich, and Bernie's Chile Verde with Pork & Brie Omelet.
With their delicious brunch options and a cozy ambiance that takes you straight back to your childhood, Wilma & Frieda's is an excellent brunch spot in Palm Springs.
Norma's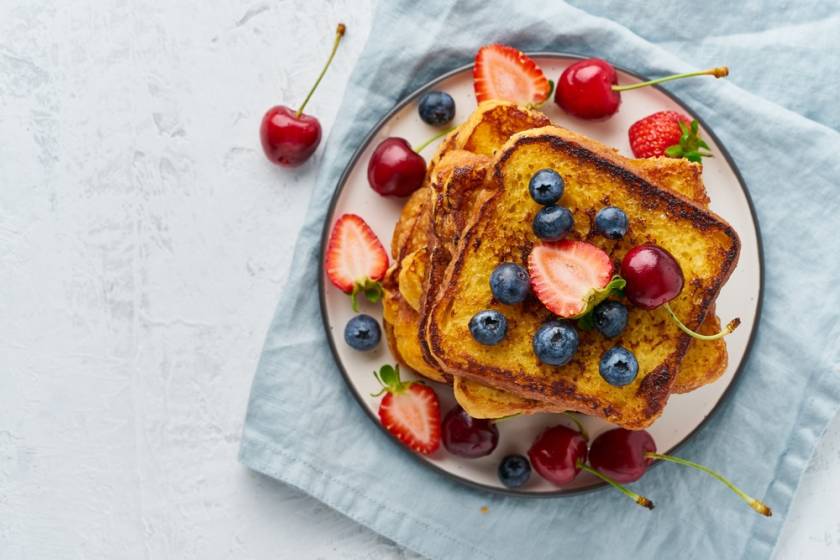 Photo Credit: Nata Bene
Address: 4200 E Palm Canyon Drive, Palm Springs, CA
Price: $$$
For an absolutely incredible Palm Springs Brunch option, pay a visit to Norma's. Located within the iconic Parker Hotel, Norma's serves brunch all day long in their classy, colorful, open-air restaurant.
The elegant ambiance of Norma's is certainly matched by its delectable brunch menu. Patrons of Norma's can indulge in classics like the Very Berry Brioche French Toast and Norma's Eggs Benedict, as well as unique offerings like Lobster Frittata and Chocolate Decadence French Toast.
In addition to delicious food and a fun ambiance, Norma's has a friendly, accommodating staff and excellent service. It's the perfect Palm Springs brunch spot for a girl's trip, a special occasion, or simply adding a flare of fun to your weekend!
Note: Norma's does take reservations, and you can make one for brunch on their website. However, you do have to pay a fee of $25 to $35 to reserve a table.
King's Highway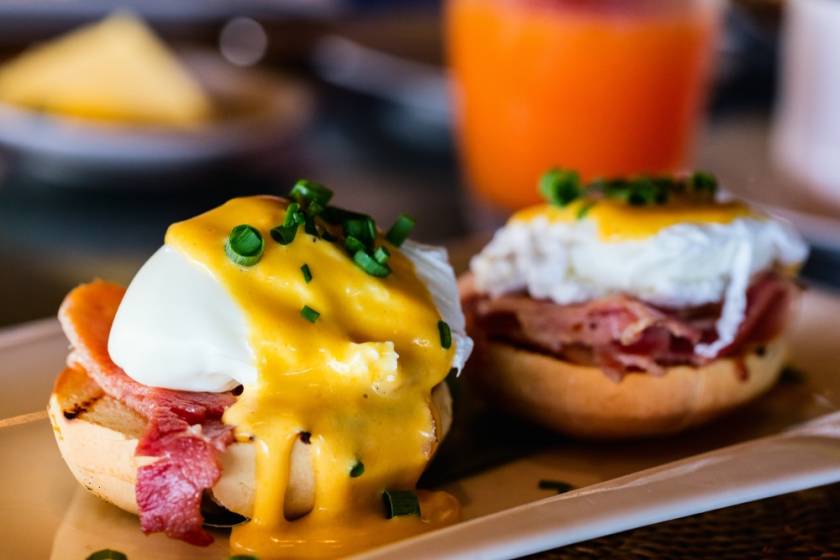 Photo Credit: BlueOrange Studio
Address: 701 E Palm Canyon Drive, Palm Springs, CA
Price: $$
King's Highway is not your typical brunch spot. Located in an abandoned Denny's, this restaurant has transformed the space into a hip and trendy destination for brunch in Palm Springs.
The friendly and inviting atmosphere will make you feel right at home while enjoying your meal. What sets King's Highway apart from other brunch spots is its commitment to using locally-sourced and organic ingredients.
Their menu rotates seasonally, so you can expect fresh and creative dishes with every visit. Some of their current crowd favorites include the Eggs Benedict with Mesquite-roasted Canadian Bacon and their Fluffy Ricotta Pancakes with soft butter and maple syrup.
Lulu California Bistro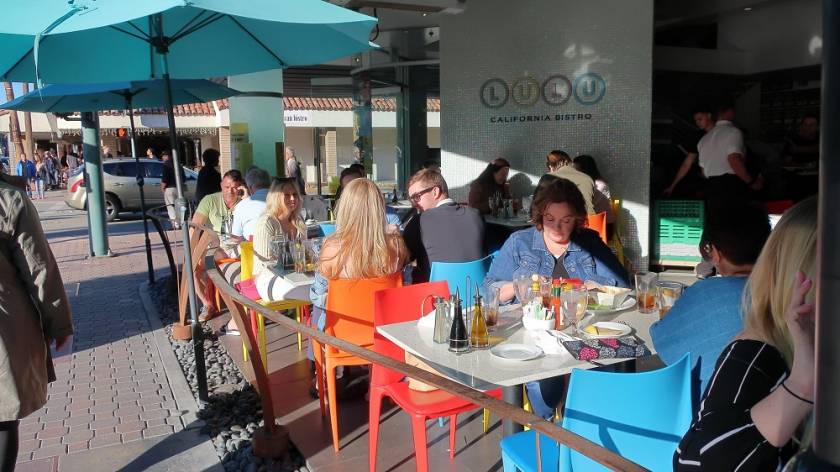 Photo Credit: cultivar413 via Flickr CC2.0
Address: 200 S Palm Canyon Drive, Palm Springs, CA
Price: $$
Lulu California Bistro is one of the top brunch spots in Palm Springs, known for its delicious food and fantastic value.
Their weekend brunch menu might be one of the best brunch deals in Palm Springs, offering an appetizer, entree, and dessert for just $27.99 per person. Plus, if you opt for mimosas or champagne, you'll receive two free refills and endless drip coffee and soda refills.
The ambiance of Lulu California Bistro is warm and welcoming, with a bright and colorful decor that reflects the sunny California vibe.
When it comes to menu items, you'll find classic breakfast favorites like eggs benedict, pancakes, and omelets, as well as more unique options like a strawberry Belgian Waffle or a French Scramble with Boursin cheese.
To start off your meal, consider their Ahi Tuna and Avocado Tower or Lightly Fried Calamari. You'll want to save room for dessert with options like triple chocolate cake, tiramisu, and seasonal fresh fruit.
Twenty6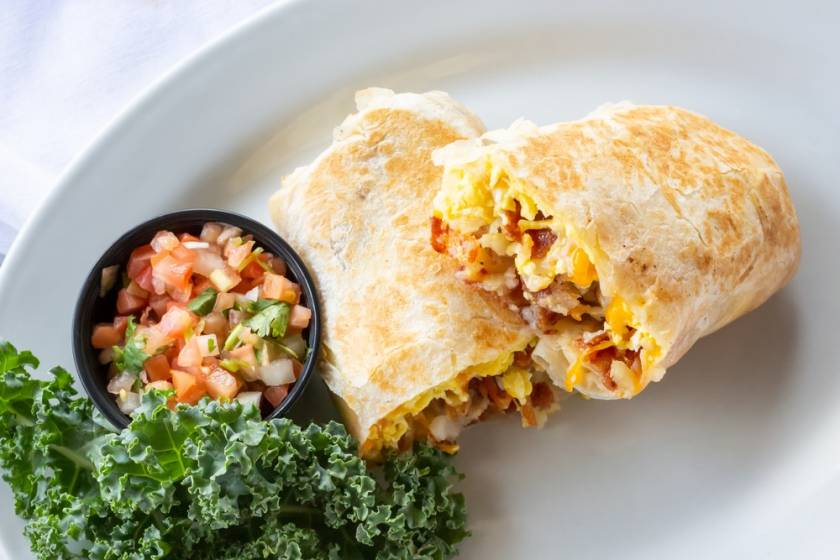 Photo Credit: The Image Party
Address: 49-499 Eisenhower Drive, La Quinta, CA
Price: $$$
Twenty6, the modern American bistro located near Old Town La Quinta, is another of the best brunch spots in Palm Springs for a myriad of reasons.
For starters, the inviting and upscale atmosphere of Twenty6 is perfect for a relaxing brunch experience. Additionally, they offer a well-rounded brunch menu that caters to all tastes, from classic brunch items like eggs benedict and breakfast burrito to delicious pancakes, waffles, and Cinnamon-spiced Pancakes straight from the griddle.
For those who want to indulge in something more wholesome, have a taste of their Lox & Bagel or Breakfast Basket.
Finally, Twenty6 has a fantastic drink menu, including several specialty coffee drinks, juices, and three types of Bloody Marys.
Enjoy the Vibrant Palm Springs Brunch Scene
Offering much more than just warm weather and beautiful scenery, Palm Springs is also a haven for brunch lovers. The city's dining scene is absolutely brimming with delightful brunch spots, each boasting its own unique atmosphere and menu.
With so many amazing options to choose from, the only problem will be squeezing as many as possible into your vacation getaway!