Can't Miss Breweries in Greater Palm Springs, CA
The sun-soaked days, starry nights, and scenic backdrop of the Santa Rosa Mountains make Palm Springs the perfect place to enjoy refreshing craft beer. Luckily for beer aficionados, the Greater Palm Springs Area has a vibrant craft beer scene. From traditional brewing to innovative new styles, Palm Springs has it all.
If you're looking for a night out from your vacation home rental and a great place to sample some of the best brews the desert offers, then look no further. Palm Springs has many options for Happy Hour, but these are the can't-miss breweries to put on your list.
La Quinta Brewing Co.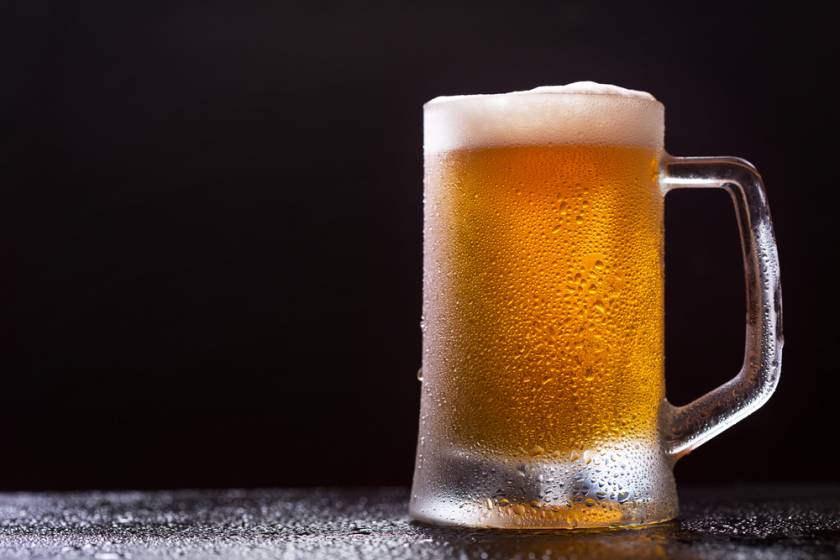 Photo Credit: Nitr
Palm Desert Address: 74714 Technology Dr, Palm Desert, CA
Palm Springs Address: 301 N. Palm Canyon Dr #100, Palm Springs, CA
Old Town La Quinta Address: 78-100 Main St #101, La Quinta, CA
Price: $$
La Quinta Brewing Co. first opened its doors in 2013 and has since grown into one of the most beloved breweries in the desert. Along with their beloved IPAs, LQBC also brews a pretty diverse style of beers, from Desertfest, their malty, German-style Marzen, to their easy-drinking Mexican lager, the "Uno Mas Por Favor!"
Their original brewery is a whopping 14,000 square feet, can brew up to 10,000 barrels annually, and is complete with a full-service kitchen and taproom.
La Quinta Brewing Co. has earned numerous awards for its beers. One of their highest accolades is a gold medal for their famous Bourbon Barrel Aged Koffi Porter at the San Diego International Beer Competition. While you can enjoy LQBC's brews at over 175 bars and restaurants all over the desert, the best place to indulge in their beers is right at the source- in their Palm Desert Taproom.
The 3,000-square-foot taproom at La Quinta Brewing Co. in Palm Desert boasts 24 beer taps, including their own beers and a few guest taps. While their beers constantly rotate with the seasons, you can't miss some of their favorites like their refreshing Poolside Blonde, award-winning Koffi Porter, and hoppy and refreshing Cactus Prick Pale Ale.
In addition to beer, you can also enjoy tasty pub food like their Poolside Nachos, Giant Soft Pretzel, and Zesty Chicken Wings, along with tacos, salads, and sandwiches.
In addition to its flagship location, La Quinta Brewing Co. has a taproom in Palm Springs and a taproom and grill in Old Town La Quinta. The menu at their Old Town La Quinta location varies slightly from in Palm Desert and includes delicious options like Ahi Poke, Mexican Corn, and Loaded Mac n' Cheese.
Las Palmas Brewing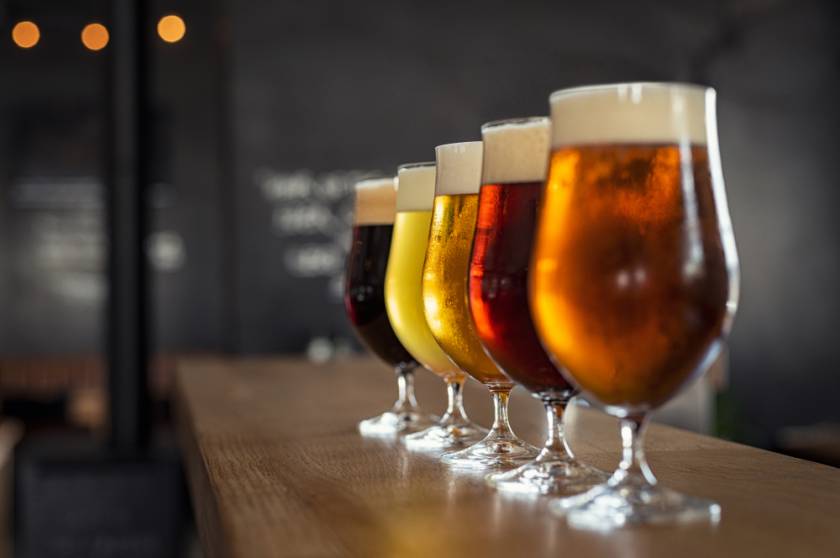 Photo Credit: Ground Picture
Address: 461 N Palm Canyon Drive, Palm Springs, CA
Price: $$
Las Palmas Brewing is an incredible, family-owned and operated production brewery. They specialize in farmhouse ales, unfiltered IPAS, and refreshing, traditional, European-style lagers.
Inside their taproom, you'll find six rotating taps. Las Palmas keeps a few favorites flowing, including their crisp, citrusy, floral unfiltered IPA 'Bloom".
In addition to its craft beer selection, Las Palmas has a carefully curated wine list that rotates seasonally, offering richer wines during the winter, and light, refreshing wines in the summer.
The atmosphere at Las Palmas Brewing is inviting and cozy. You can enjoy their beers inside their taproom, on the cozy back patio, or people-watch on the front patio. While they don't serve food, Las Palmas invites you to bring your own food along to enjoy while you quench your thirst with their craft beers.
Coachella Valley Brewing Co.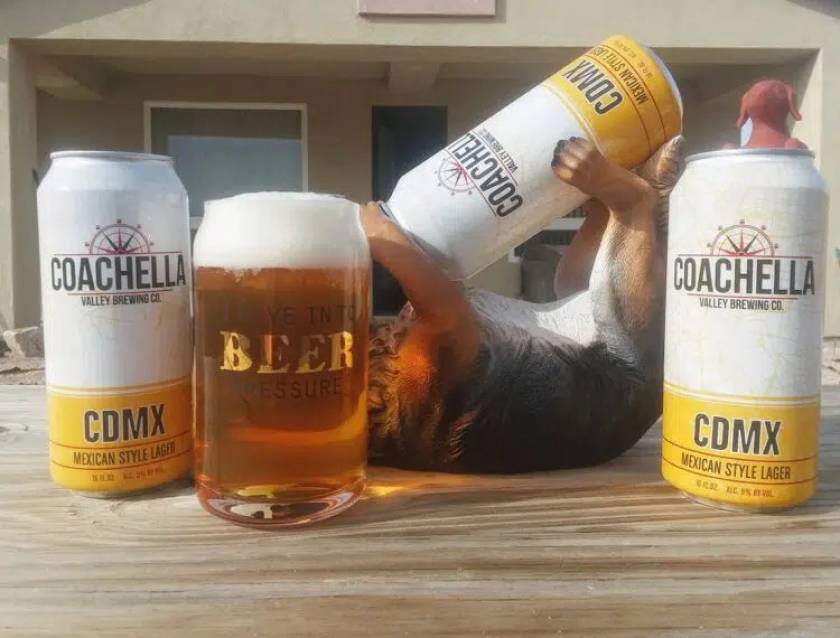 Photo Credit: visitpalmsprings
Address: 30640 Gunther St, Thousand Palms, CA
Price: $$
The quality of beers is unmatched at Coachella Valley Brewing Company. They pride themselves on their farm-to-table brewing approach, using all local herbs, citrus, spices, and honey to create delicious craft beer. This approach also lends itself to localism and sustainability.
Their use of high-quality, fresh, local ingredients shines through in their brews. Coachella Valley Brewing Co. offers a great selection of craft beers, including award-winning IPAS, light and refreshing pilsners, and full-bodied and flavorful stouts. Their beautifully appointed tasting room always has fourteen locally crafted beers on tap.
If you're looking for something a little more on the citrusy side, they also offer a few exciting flavor creations, like their Watermelon Blonde and Strawberry Lemonade Fruited Ale.
Another reason why Coachella Valley Brewing Co. is one of the most sustainable breweries in the desert is their commitment to low waste. Rather than throwing away their spent grain like other breweries, Coachella Valley Brewing Co. gives their spent grain to local agricultural businesses to compost and add to livestock feed.
Coachella Valley Brewing Co. runs a special offer or event every night of the week, from "Trivia Wednesdays" to "Education and Appreciation," when all teachers and educators get discounts on their beer tabs. They also have food vendors on the weekends; you can check their event schedule for more information.
Babe's BBQ & Brewery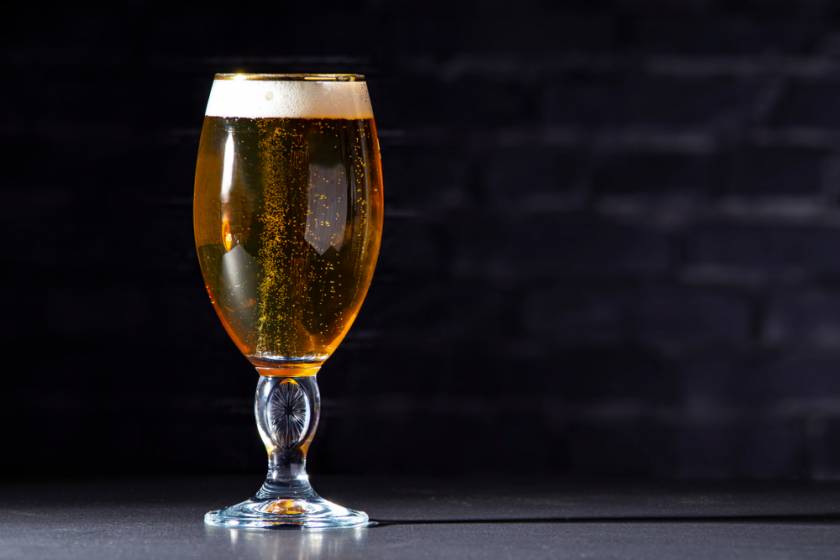 Photo Credit: oasisamuel
Address: 71800 Hwy 111, Suite A-176, Rancho Mirage, CA
Price: $$
For delicious beers   and barbeque in a fun, western setting, pay a visit to the oldest microbrewery in the Coachella Valley- Babe's BBQ & Brewery!
This award winning brewhouse has an impressive on-tap lineup. You'll find a variety of delicious and easy-drinkable ales.
Since 2002, Babe's has been brewing their light and smooth Honey Blonde Ale, along with their famous Blackfin Lager, an American dark lager with a smooth caramel accent and the characteristics of a darker beer that is still light in the mouth and easy to drink. They also have a few other delicious ales, IPAs, and a Vienna-style Mexican lager.
In addition to some of the best beers in Palm Springs, you can also enjoy mouthwatering barbeque. Be sure to try either their Baby Back or St. Louis Ribs.
In terms of ambiance, you'll find an eclectic yet relaxed dining room. The fun cowboy theme, complete with horse murals and cowhide chairs, will transport you back into the Wild Wild West.
Babe's BBQ & Brewery is the perfect place to kick back, relax and enjoy some of the best BBQ and brews in Palm Springs.
Luchador Brewing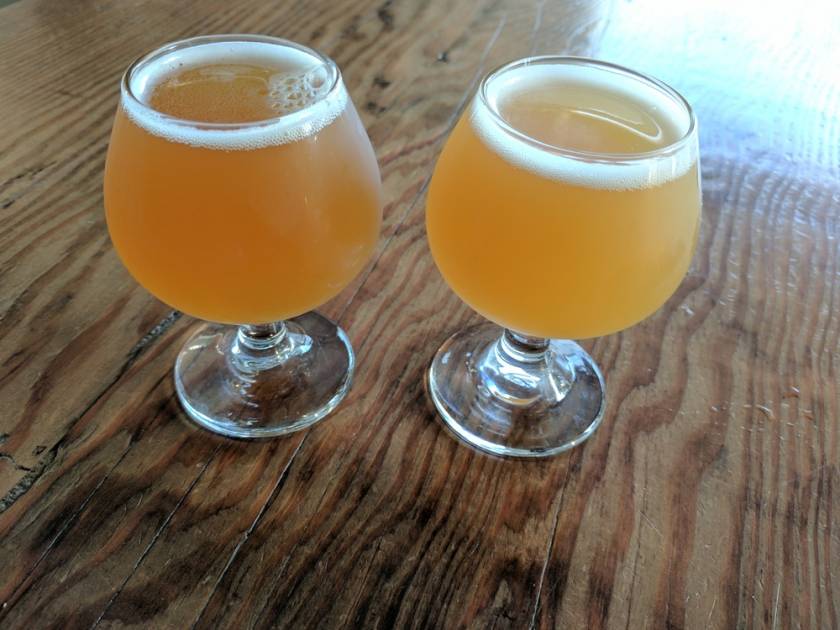 Photo Credit: eddie-hernandez.com
Address: 68510 E. Palm Canyon Drive #140 Cathedral City, CA
Price: $$
Born out of a love for traditional Luchador wrestling, Luchador Brewingis one of the best breweries in the Palm Springs area.
Luchador Brewing has an impressive range of beer styles. Among their 15 rotating taps, you'll find crowd-pleasing West Coast IPAs and a great blend of porters, sours, and wheat beers.
One of their more unique offerings is the delicious El Jefe Fruta, an astounding Hefeweizen that blends a perfect combination of mango, papaya, blackberry, and apricot. If you're craving something a little more decadent, their Goin Nuts Porter is a delicious combination of peanut butter and vanilla.
El Camión is Luchador's in-house food truck, which dishes out Mexican-style street food, including tacos, nachos, burritos, and empanadas.
Desert Beer Company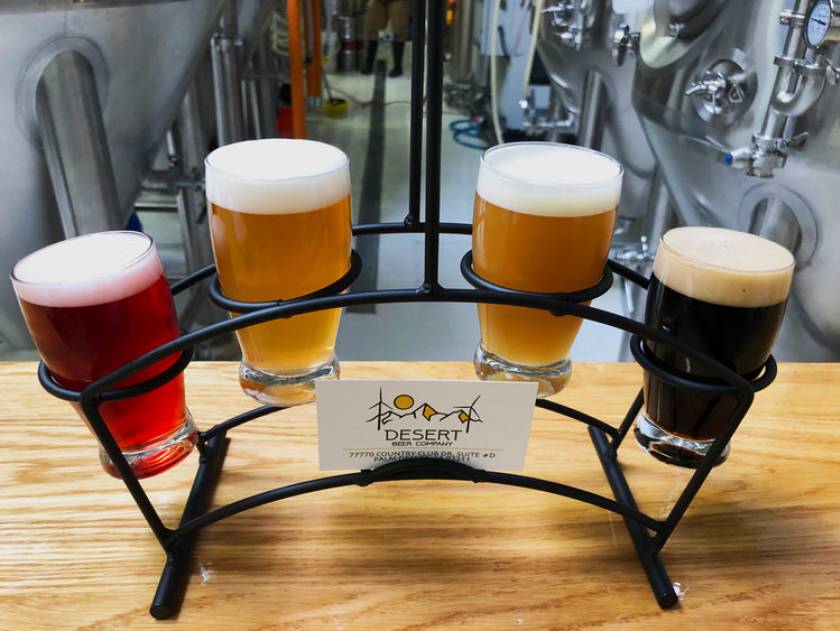 Photo Credit: desertbeercompany
Address: 77770 Country Club Dr. Ste D, Palm Desert, CA
Price: $-$$
Desert Beer Company is one of the best breweries in Palm Springs, thanks to their fun community events, cozy atmosphere, and of course, their delicious craft beers!
This brewpub's ever-changing beer collection includes a great combination of classics and experimental brews. For a refreshing, easy drinker in the desert, try their Desert Saison or Merica, an American Light Lager.
They also boast some unique brews. One of the latest concoctions is the Mexican Candy, a kettle sour with watermelon and tamarind.
Desert Beer Company doesn't have a kitchen, but they do have pop-up food trucks a few times a week, and you can check the schedule on their website. This lively brewery option also hosts trivia and acoustic nights where you can enjoy their brews while participating in a fun community event.
Restaurants and Tap Houses
While they don't brew their own beer, here are some other excellent restaurants and tap houses to enjoy excellent craft beer.
Stout Burgers & Beers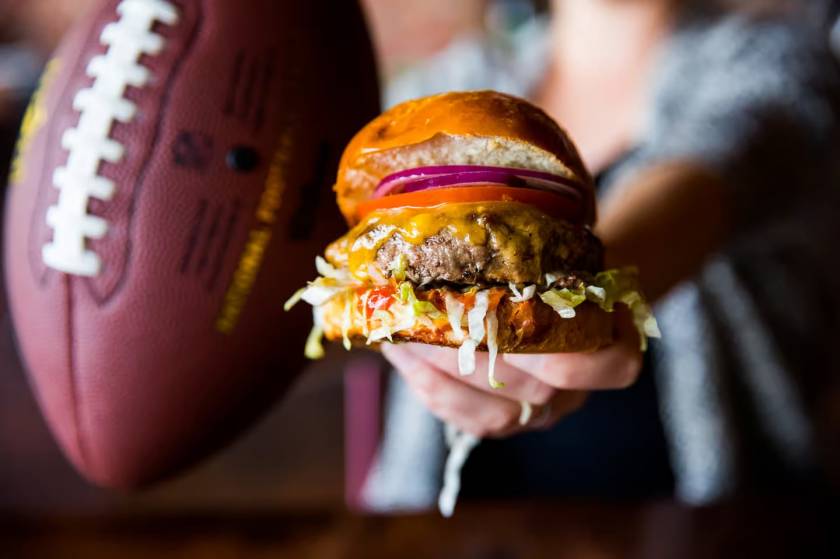 Photo Credit: stoutburgersandbeers
Address: 100 W Tahquitz Canyon Way Ste 130, Palm Springs, CA
Price: $
Stout Burgers & Beers is a great place to enjoy some delicious new-style burgers and sip from their handpicked selection of craft beers from craft breweries all over California.
Their taps include a mix of lagers, Belgian golden ales, hoppy ales, dark ales, and sour beers. You can dine inside their air-conditioned tap room or on their lovely shaded patio with views of the Santa Rosa Mountains in the distance.
1501 Uptown Gastropub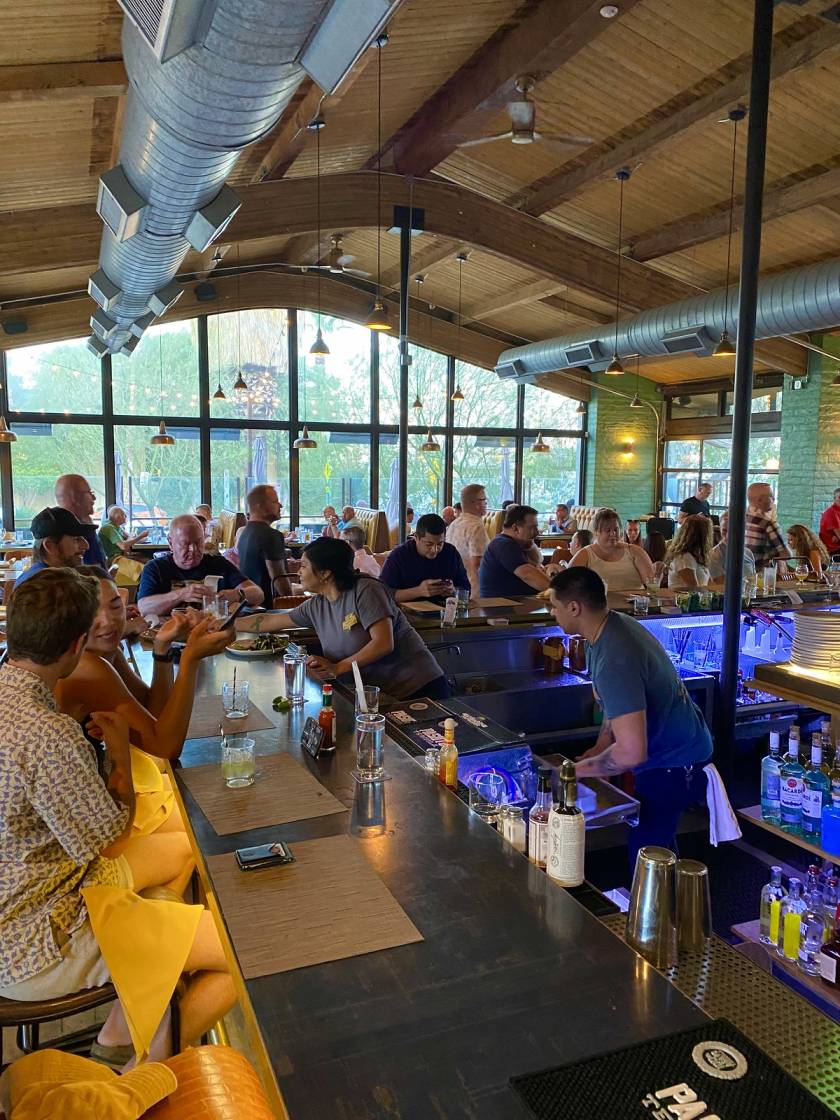 Photo Credit: Rob Corder via Flickr CC2.0
Address: 1501 N Palm Canyon Dr, Palm Springs, CA
Price: $$$
If you want to enjoy craft beer in a fun, beautiful atmosphere, 1501 Uptown Gastropub in Palm Springs is great to pop in and have a beer.
They have an extensive craft beer list, with brews from all over California. With its large, open beer hall and a beautiful patio with twinkly lights, 1501 Uptown Gastropub has the perfect atmosphere for sampling its beers. If you're hungry, they also have a lengthy food menu with everything from Avocado Toast to Chilled Mesquite Tri-Tip Sandwiches.
Enjoy the Best Craft Breweries in the Desert
You're now equipped with all the information you need to go out and sample the best breweries in Palm Springs. From hoppy IPAs to rich, delicious porters and stouts, come enjoy these can't-miss breweries in Palm Springs.
If you are looking for divine amenities, an outdoor living lifestyle, and premium accommodations, let Resort Homes Destination help you book your next vacation home rental in the area!