The Best Places for Happy Hour in the Palm Springs Area
When it comes to finding a place for happy hour in the Palm Springs area, there are several wonderful options to choose from. Whether you're in the mood for craft beer, exquisite wines, or craft cocktails, the happy hour drink specials in both La Quinta and Palm Springs are plentiful.
Get ready to start your night off with Happy Hour before heading to one of the top restaurants in the area. Or, grab a bite to go along with your cocktail and call it a night.The happy hour food specials are equally impressive as the cocktails. Between Palm Springs and La Quinta, you will be able to take your pick between seafood, Mexican food, Italian, and more.
Let's go ahead and take a look at the best places for happy hour in Greater Palm Springs!
1. Cork and Fork Wine Bar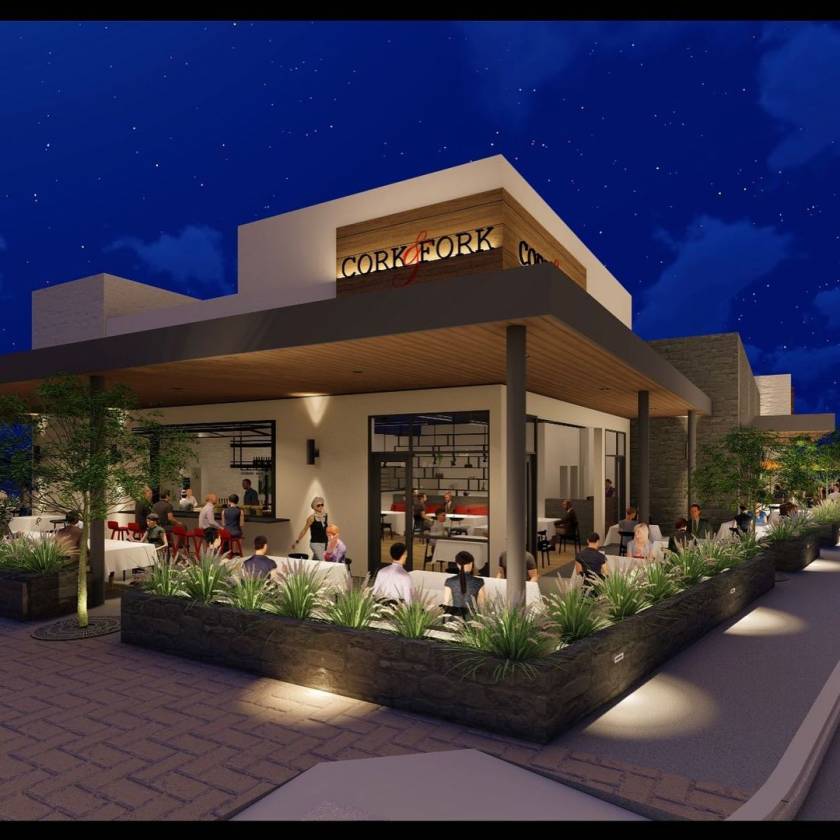 Photo Credit: corkandfork via Instagram
47875 Caleo Bay Drive # A106, La Quinta
Cork and Fork is a beautiful American-style restaurant that specializes in creative small plates, and a curated wine list from award-winning winemakers around the world.
They have an ever-changing variety of delicious small plates and even have plenty of options for dietary restrictions, like gluten intolerance and vegetarians. This is an excellent place to visit if you're looking to try and share a variety of cuisines between your group.
The overall ambiance of Cork and Fork is classy yet warm, and it's a fantastic place for happy hour in La Quinta!
Every day from 4-5:30 P.M, Cork and Fork features a happy hour which includes discounted reds and whites, draft beer specials, dessert specials, a happy hour pizza of the day, and a generous 20% off all small plates! That's a lot of bang your buck, and trust us, what you save in price, you won't sacrifice in quality.
2. La Quinta Cliffhouse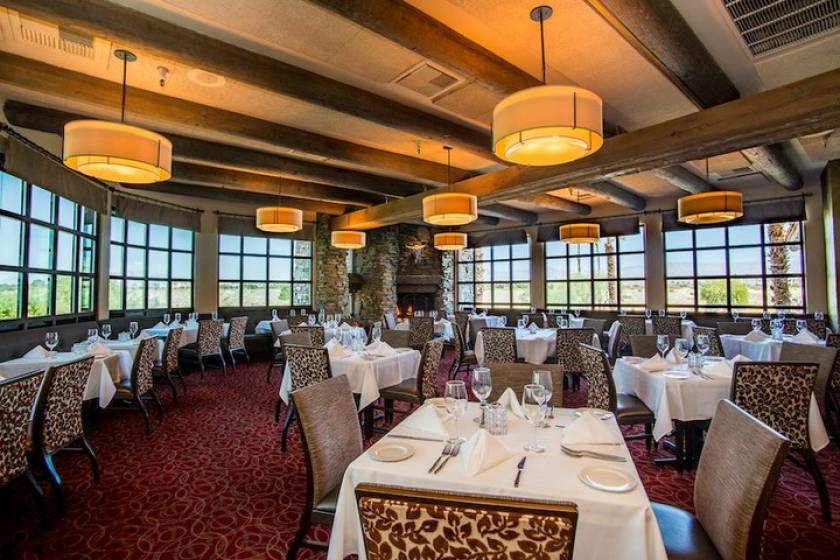 Photo Credit: laquintacliffhouse via Instagram
78250 Highway 111, La Quinta
Not only is La Quinta Cliffhouse one of the premier places to dine in La Quinta, but they also feature one of the best happy hours in the Palm Springs area.
As the name suggests, the restaurant is built right into the cliffside and features delicious, classic American fare in an upscale dining setting and incredible ambiance. At La Quinta Cliffhouse, you can expect to enjoy a variety of tasty seafood, pasta, and steaks.
Daily happy hour at La Quinta Cliffhouse runs from 3:30-6 P.M in the bar only and includes $1-$2 discounts on cocktails, wines, draft beer, and appetizers.
3. La Quinta Brewing Co- Old Town Taproom and Grill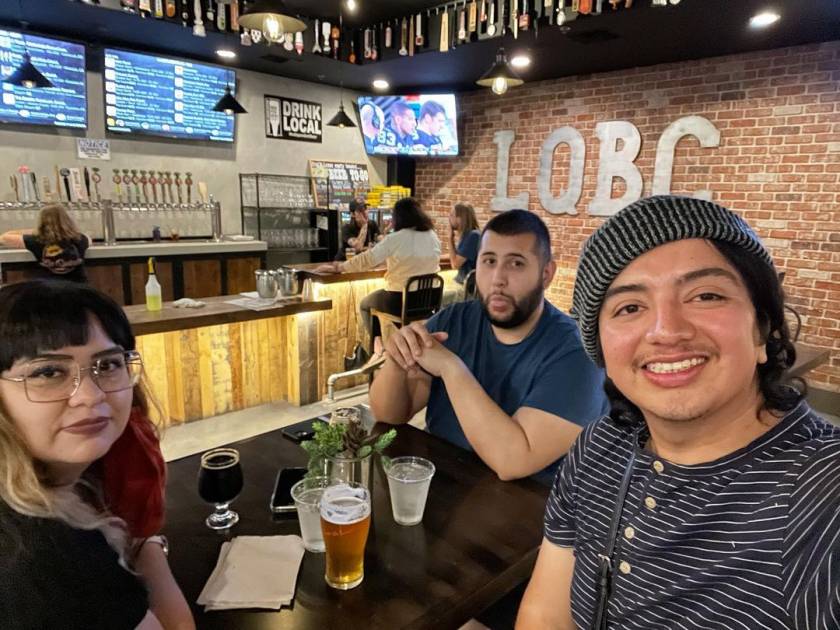 Photo Credit: aylyno via Instagram
78-100 Main St #101, La Quinta
301 N. Palm Canyon Dr #100, Palm Springs
74-714 Technology Dr, Palm Desert
Craft beer lovers can rejoice, as La Quinta Brewing Co has a taproom located right in the center of La Quinta Old Town. In addition to a rotating variety of domestic beers on tap, La Quinta Brewing Co has a variety of salads, sandwiches, and delicious pub fare available inside their Old Town Taproom and Grill.
This quaint yet fun microbrewery has a fun and local atmosphere, and a great happy hour that includes 25% off pints of all their beer, daily until 6 P.M!
If you're looking to grab a bite and enjoy some craft beer, you can't go wrong with Old Town Taproom and Grill, especially with their happy hour deal. And, if you're exploring other areas, you can also find their other locations right in downtown Palm Springs and Palm Desert.
4. The Grill on Main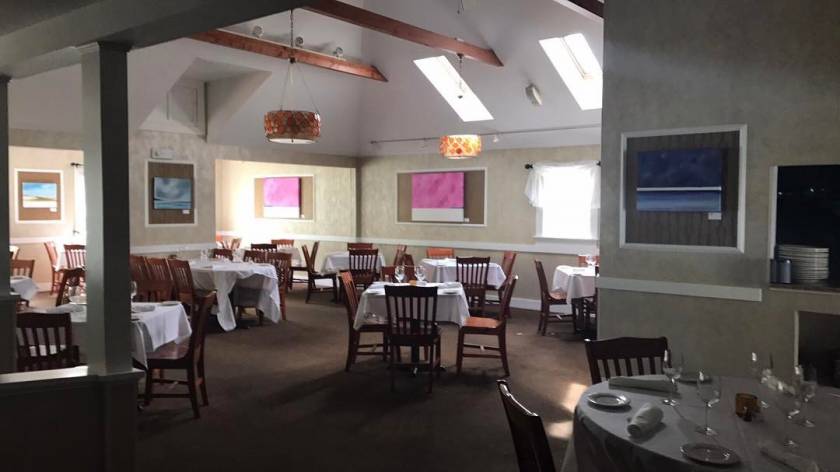 Photo Credit: sitkacreations via Instagram
78065 Main St, La Quinta
The Grill on Main is an elegant yet lively restaurant in La Quinta with delicious American fare and one of the most extensive happy hour menus in Palm Springs! When you visit The Grill on Main, you can choose to dine either in their sophisticated dining room or relaxing patio.
Their happy hour runs daily from 3-6 P.M., and their drink specials include discounted wines and well drinks. From their happy hour food menu, you can enjoy a variety of tasty appetizers including share plates, tacos, and even shrimp pasta!
If you're searching for a Palm Springs happy hour that'll double as dinner, you can't go wrong at The Grill on Main.
5. Stuft Pizza Bar & Grill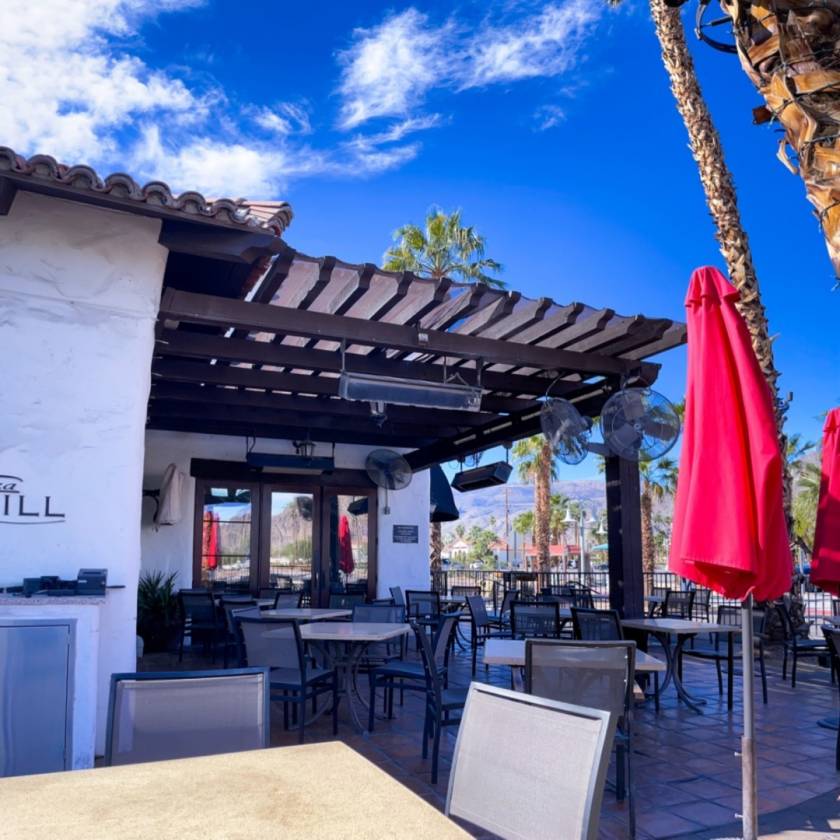 Photo Credit: stuftpizzabarandgrill via Instagram
78015 Main Street #100, La Quinta
72840 Highway 111 Suite #465, Palm Desert
Stuft Pizza Bar & Grill is a family-owned restaurant with locations in both La Quinta and Palm Springs. They've become a neighborhood staple in the Coachella Valley and for good reason. They've put a fun spin on a classic pizzeria and both their locations serve delicious handmade pizzas, have an incredible wine list, a full bar, along with several HD TVs for sports fans.
Happy hour at Stuft Pizza Bar & Grill is offered daily from 3-6 P.M. throughout the entire restaurant.
Happy hour drink offerings include $5 pints and $7 mugs of draft beers along with $6 sangrias, house wines, margaritas, and well cocktails. In the food department, Stuft Pizza offers great discounts on the majority of its menu items during happy hour.
6. Boozehounds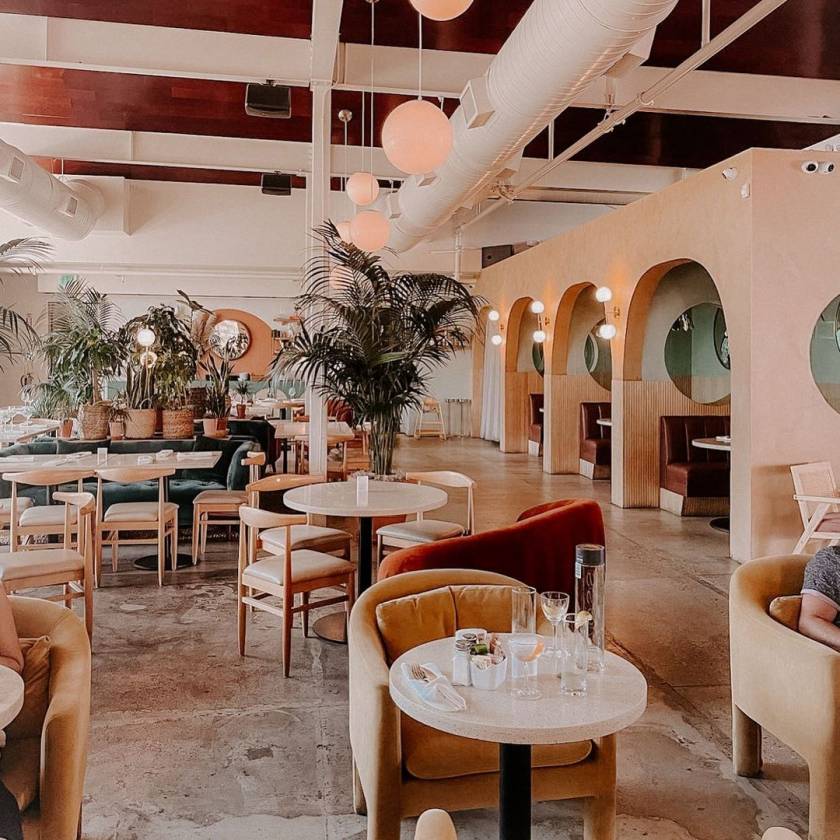 Photo Credit: boozehoundsps via Instagram
2080 N. Palm Canyon Drive, Palm Springs
Boozehounds is an upscale craft cocktail bar that is truly unique. Not only is their décor stunning but they are one of the only restaurants in Palm Springs that is completely dog-friendly! In their open air-atrium, you can enjoy craft cocktails and a delicious Japanese-influenced Southern California menu. If you're in town in search of some of the most Instagrammable spots in Palm Springs, you'll love grabbing a drink here.
With the exception of Tuesdays and Wednesdays when they are closed, Boozehounds offers one of the best Palm Springs happy hours from 2-5 P.M. During happy hour, their classic cocktails, house beers, and house wines are heavily discounted. The happy hour food menu includes everything from popcorn and bruschetta to pork lumpia and a burger with cheese.
If you want to enjoy a happy hour in Palm Springs with tasty craft cocktails that you can bring your dog along to, Boozehounds is the place to be.
7. Ristorante Mamma Gina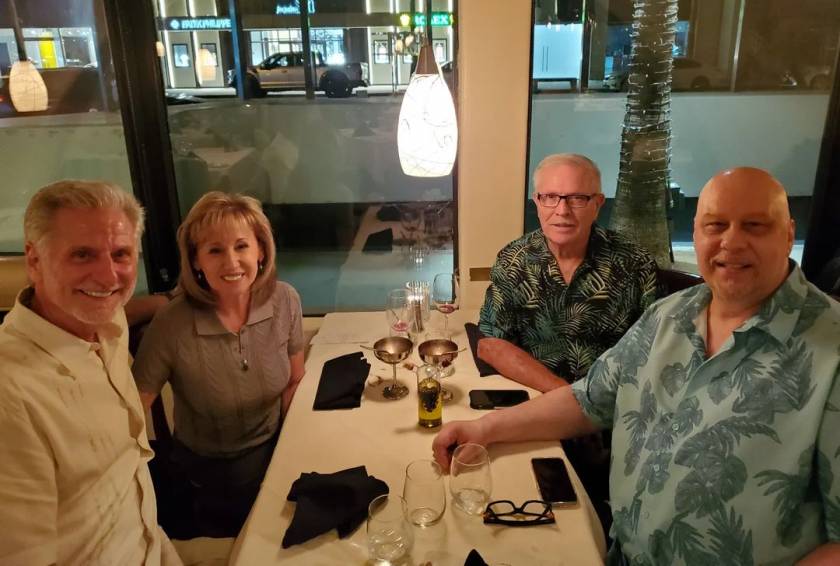 Photo Credit: dglassett via Instagram
73705 El Paseo, Palm Desert
If you're looking for a happy hour with delicious Italian food, Ristorante Mamma Gina really brings it. Their happy hour runs daily from 4 P.M to close in their bar, making them the only restaurant in Palm Springs to offer an all-night happy hour every day of the week! Whether you're planning to grab a drink to start your evening, or end it with a late night cap, Ristorante Mamma Gina has you covered.
Off the happy hour menu, you can enjoy delicious traditional Italian soup salad and pasta dishes, and even delicacies like salmon, filet mignon, and chicken parmesan.
Ristorante Mamma Gina's happy hour drink menu is equally impressive. You really can't go wrong with $6 well cocktails, sangria, and margaritas. Plus, they have a delicious selection of specialty cocktails you can enjoy at a discount!
It's important to note that the happy hour menu at Mamma Gina's is only available when you dine at the bar, which is first-come, first-served.
8. Trio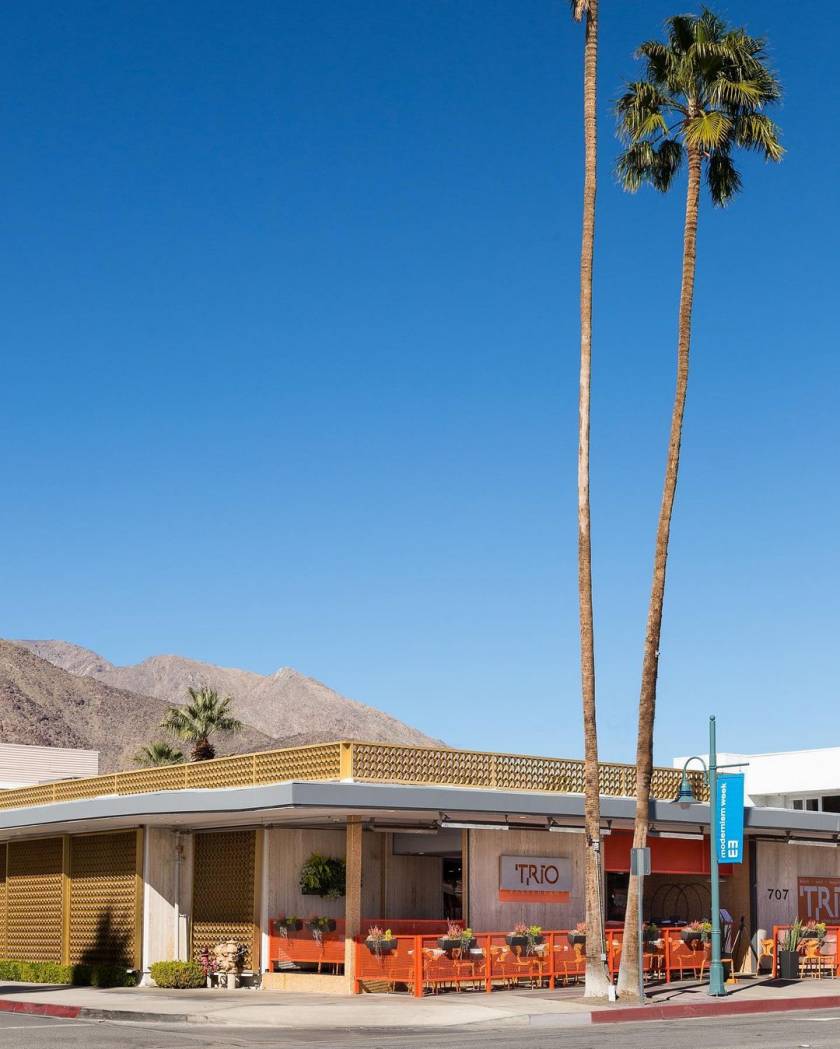 Photo Credit: localemagazine via Instagram
707 N Palm Canyon Dr, Palm Springs
Trio is a fantastic restaurant with one of the best happy hours in Palm Springs. Every day from 3-6 P.M. you can enjoy a wide selection of options from their happy hour menu.
Their happy hour menu includes discounted house wines, beers, and well cocktails, along with martinis and lemon drops. Trio also has an extensive happy hour food menu where you can either choose a pizza or from their delicious small plates which feature items like calamari, ribs, sliders, and ceviche.
While that's already a great deal for happy hour, Trio even takes happy hour one step further by also giving you the option of enjoying their pre-fixe 3-course menu. With the 3-course menu, you select your preferred type of salad, choice of entrée, and even a dessert!
Trio's options for their 3 entrees include items like wild mushroom fettuccine, roasted free-range chicken, and a variety of pizzas, and they're all sure to satisfy.
As far as happy hours go, Trio really delivers!
9. Eddie V's Prime Seafood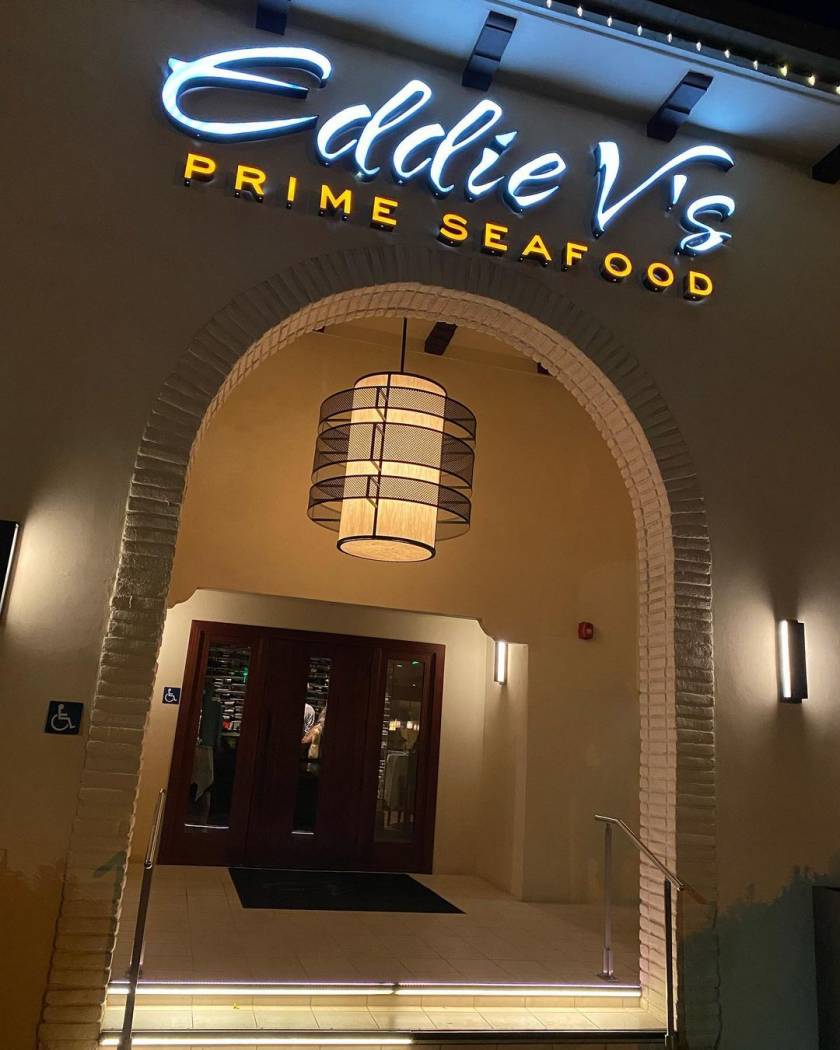 Photo Credit: tiffanieofficial via Instagram
73040 El Paseo, Palm Desert
This luxury yet relaxed steak and seafood restaurant has a happy hour that's well worth checking out. With locations in 14 states throughout the U.S., Eddie V's has grown to be quite popular and given their extensive happy hour menu, I'm not surprised.
Every Sunday-Thursday from 4-6:30 P.M, you can experience delicious happy hour discounts from a fine dining steak seafood restaurant that does not disappoint.
During Eddie V's happy hour, you can enjoy delicacies like mini filet sandwiches, South African Lobster, and Yellowtail Sashimi. To quench your thirst, you can choose from a selection of hand-shaken cocktails and wines by the glass.
If you're looking for a high-end happy hour in Palm Desert, Eddie V's Prime Seafood should be at the top of your list.
10. The Tropicale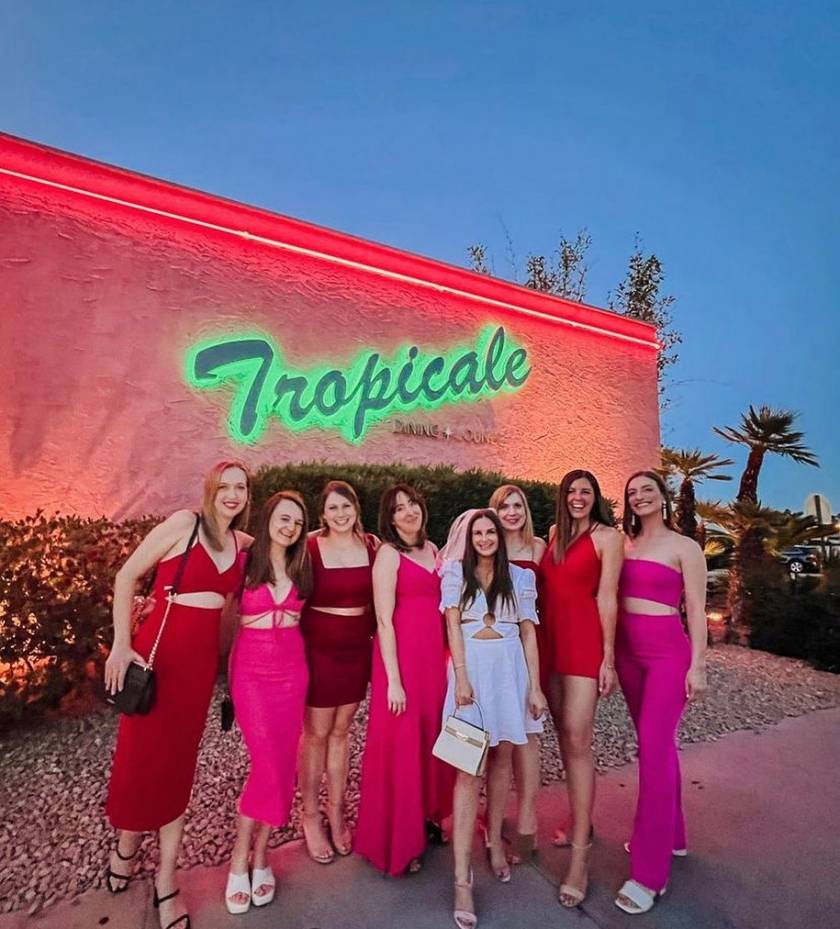 Photo Credit: tropicalepsp via Instagram
330 E Amado Rd, Palm Springs
The Tropicale boasts a chic ambiance and delicious variety of world cuisines in addition to one of the best happy hours in Palm Springs.
The Tropicale happy hour is offered daily from 4-7 P.M, as well as 4 until close on Wednesday nights. During happy hour, their tasty small plates are offered at a discounted rate. While Tropicale has 20+ options on their happy hour menu, some of the highlights include Thai chicken skewers with peanut sauce, Mediterranean hummus, tabbouleh and pita, Angus sliders, and a selection of pizzas.
The food options are where Tropicale's happy hour truly shines, but they also have drink specials that change weekly.
11. El Jefe Desert Cantina
1800 E Palm Canyon Dr, Palm Springs
El Jefe is a Mexican Cantina tucked away inside the Saguaro Hotel in Palm Springs. They serve up delicious tacos, fresh fruit margaritas, and other cocktails and Mexican fare.
Monday thru Friday from 2-6 P.M., El Jefe runs a happy hour where you can indulge in delicious $7 aperitivo mini nachos, chorizo quesadillas, and shrimp tostaditos along with $6 drink specials that include a variety of cocktails, beers, and wines.
They also offer Taco Tuesday and Taco Thursday, so while not a happy hour necessarily, you can indulge in their fish tacos for a fraction of the price from 6-9 P.M.
Grab a Drink and Enjoy Greater Palm Springs
Now that you know where to get the best happy hour deals throughout the Greater Palm Springs area, your vacation is truly ready to begin. Although your vacation rental home at PGA West will come fully equipped with everything you need to make an incredible cocktail to be enjoyed at your private pool, we also recommend you take a few nights to get out and explore the town. Don't worry, the hot tub will be ready and waiting for you when you return!