The 25 Most Photogenic Instagram Spots Around Palm Springs
Palm Springs, and the greater Palm Springs area which includes La Quinta, is a fun place to stay, and it's also one of the most photogenic places in the world. The town is an easy road trip from Los Angeles, just over 100 miles from the city. It's a good place to come if you want picturesque desert views in a quaint but vibrant town.
From your vacation rental home in La Quinta, there are dozens of Insta-worthy spots that you can find all over the area. Some of these spots include Joshua Tree National Park, hotels, vibrant doors and houses, and the Moorten Botanical Garden.
This article has the 25 best Palm Springs Instagram spots! And, since there is so much to explore in La Quinta, Palm Springs, and beyond, you will undoubtedly run into plenty of other great photo spots during your stay. So keep an eye out, get creative, and have fun!
PGA West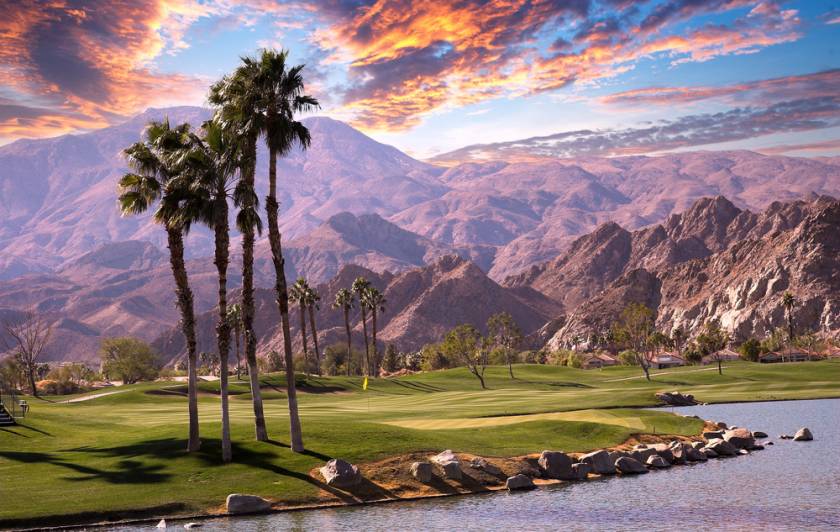 Photo Credit: Isogood_patrick
Address: 55955 PGA Boulevard, La Quinta
While staying in PGA West, you'll be certain to find your fair share of photogenic places. The grounds themselves are immaculate, whether you're here to enjoy the golf course, or not. Your vacation rental home has a private pool and outdoor area with exquisite design. Add to that the palm trees and backdrop of the Santa Rosa Mountains and you have the perfect picture without even needing to leave your rental.
There are also a number of club houses that feature different views and perfectly-plated meals. Plus, if you are a golfer, you won't get a better action shot than those you can capture from one of the many PGA West golf courses.
Downtown La Quinta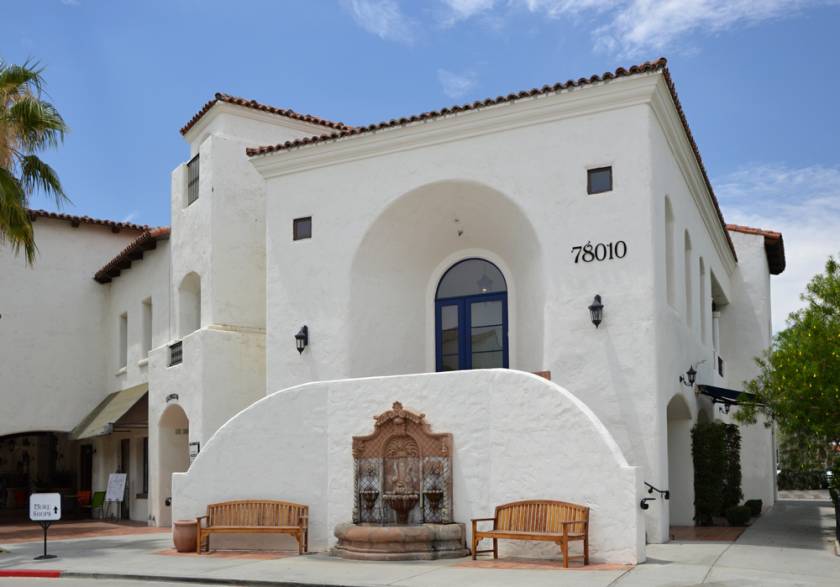 Photo Credit: Ulf Nammert
Address: All throughout Downtown La Quinta
Although La Quinta is a small town, its downtown oozes with photo-worthy spots, artistic touches, and beautiful murals. From delicious restaurants to great street views, you'll have a lot of fun taking your time through La Quinta, taking pictures along the way.
If you take advantage of the local shopping scene, too, you might even be able to find the perfect outfit change during your day so you can get some pictures in different outfits all in one fun-filled day.
Roadrunner Statue, La Quinta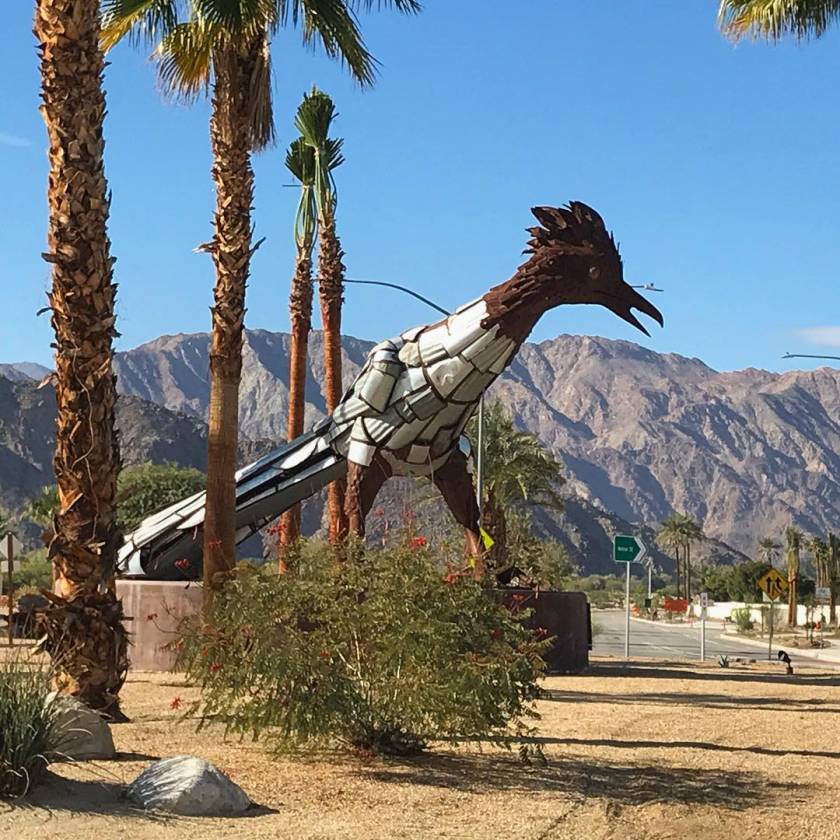 Photo Credit: lonelytravelfr
Address: Traffic Circle Jefferson St & Avenue 52, La Quinta
Although in most places locals wouldn't recommend you visit a traffic circle for a great picture, La Quinta is not like most places, picture opps included. Just be careful to not block traffic while enjoying it or standing in the middle of the road for a picture.
This statue was originally built for the nearby Coachella Music Festival but now calls La Quinta its home.
The Pink Door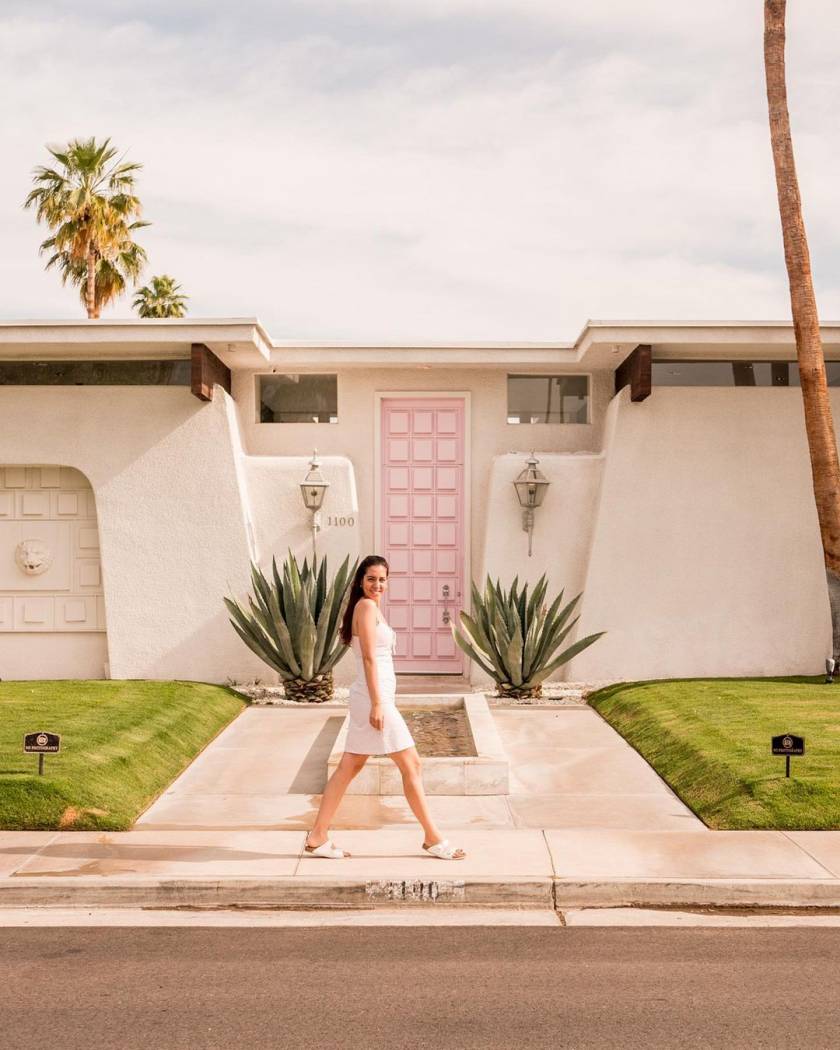 Photo Credit: goekce_ipek
Address: 1100 E Sierra Way, Palm Springs
A great spot is the pink door, you know, that pink door, which is very popular with #thatpinkdoor. You've undoubtedly seen the door all over Instagram before so this is your chance to do it for the 'gram, too. It's in the Indian Canyon Neighborhood just south of downtown Palm Springs.
The entire neighborhood is filled with beautiful, well-kept homes. You'll find some other great Insta spots around here, so plan to stay a bit.
Palm Springs Aerial Tramway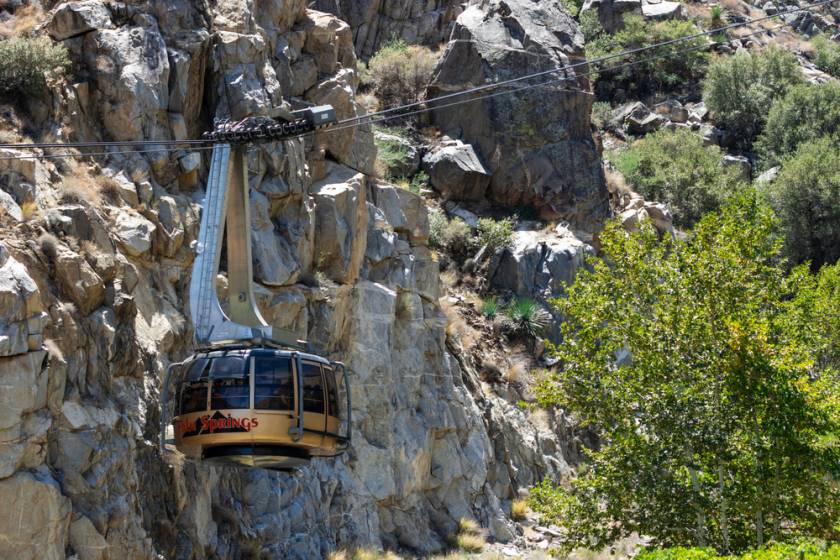 Photo Credit: Kate Scott
Address: 1 Tram Way, Palm Springs
The Palm Springs Aerial Tramway is the largest rotating tramway in the world. It goes from Coachella Valley to San Jacinto Peak.
Not only will you see some amazing views overlooking California from the tram, but the photo you can get on the tram and once you get to the top are unbeatable.
Tickets are required to ride the tram, but since your ticket guarantees you a ride, there is no bad time to go. Sunset from the tram is beautiful, but you will have less time to take pictures at the top since it gets dark.
Moorten Botanical Garden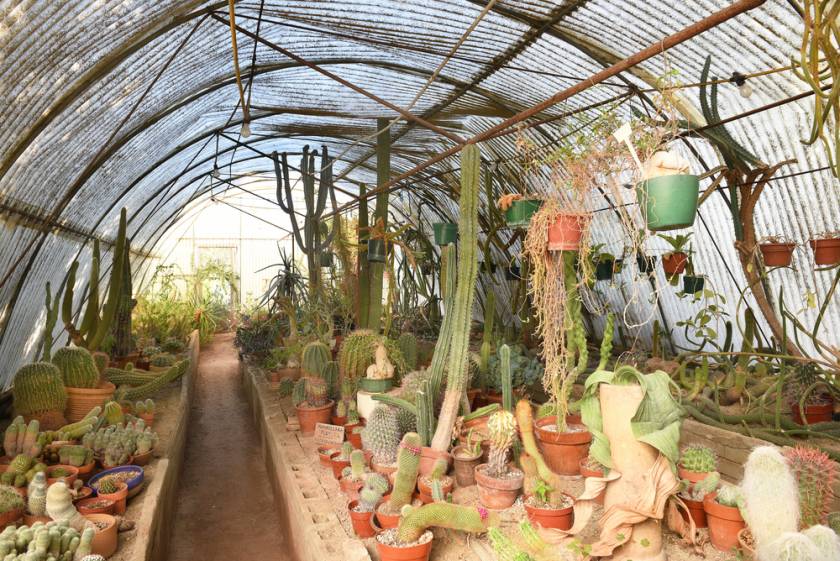 Photo Credit: Steve Cukrov
Address: 1701 S Palm Canyon Dr, Palm Springs
The Moorten Botanical Garden is a good place to go if you want a lot of great pictures all in one place. You'll get some great shots with desert plants, trees, and cacti here.
Some of the places you won't want to miss in the garden include the Cactarium, where there are rare plants, and the nature trail that is lined with plants.
The botanical garden is closed in July and August, so make sure you avoid the hottest months of the year here. And, there is a small admission fee.
Make sure you give yourself time to explore the area outside the botanical garden where there are plenty of other great spots to capture pictures for Instagram with cacti and other plants.
Sunnylands Center & Gardens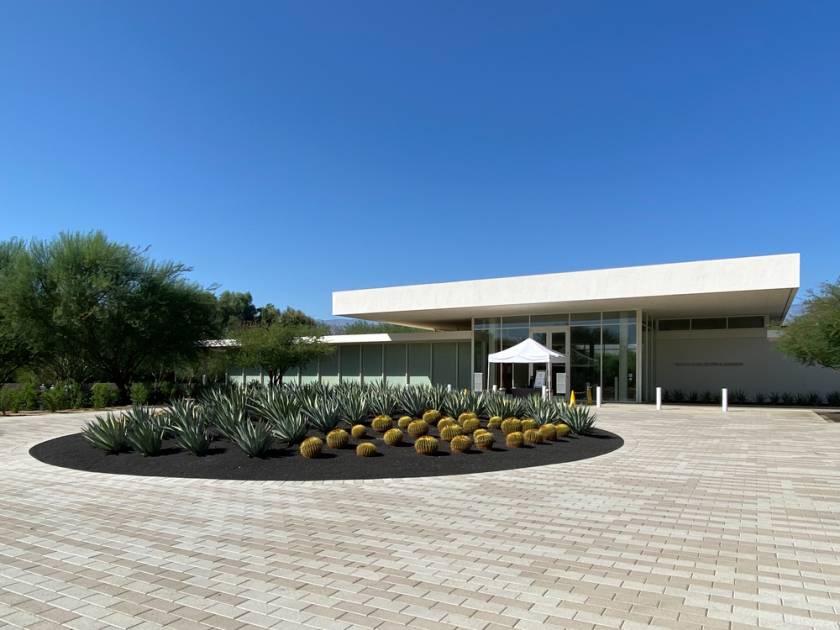 Photo Credit: Unwind
Address: 37977 Bob Hope Dr, Rancho Mirage
The Sunnylands Center & Gardens are a 200 acre estate full of plants, gardens, and paths to explore. If you are looking for more cacti or desert plants to capture, this is the place to do it!
There are so many places to explore here, so you are bound to find a lot of great spots, and you should be able to avoid people if you venture away from the entrance.
Forever Marilyn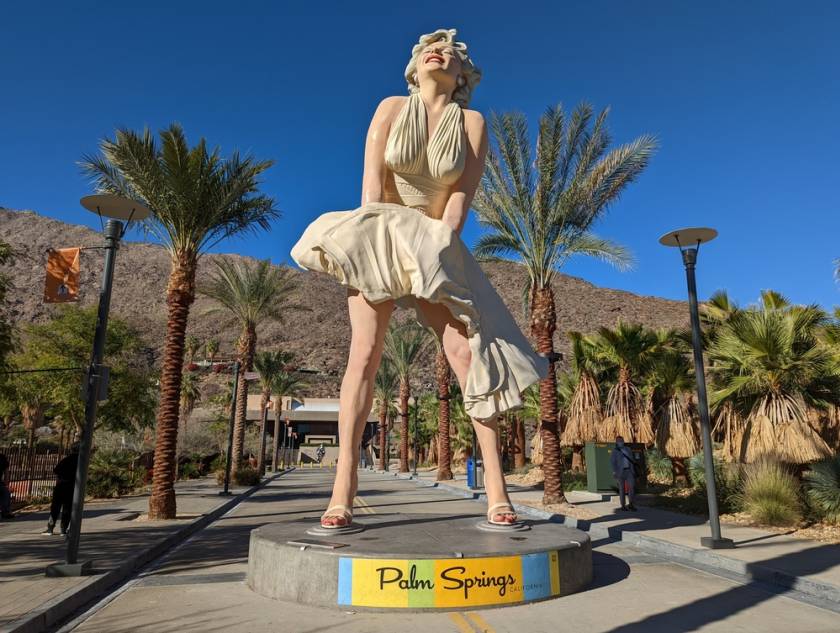 Photo Credit: Noah Sauve
Address: Museum Wy, Palm Springs
The iconic Forever Marilyn statue is a sculpture of Marilyn Monroe in downtown Palm Springs. The statue looks down on the town as a way of remembering her love for Palm Springs.
She was first discovered in Palm Springs, which is why the town is such a fitting place for a statue to remember her by.
Who knows, maybe if you practice your poses enough alongside this statue, you could get discovered here, too!
Cabazon Dinosaurs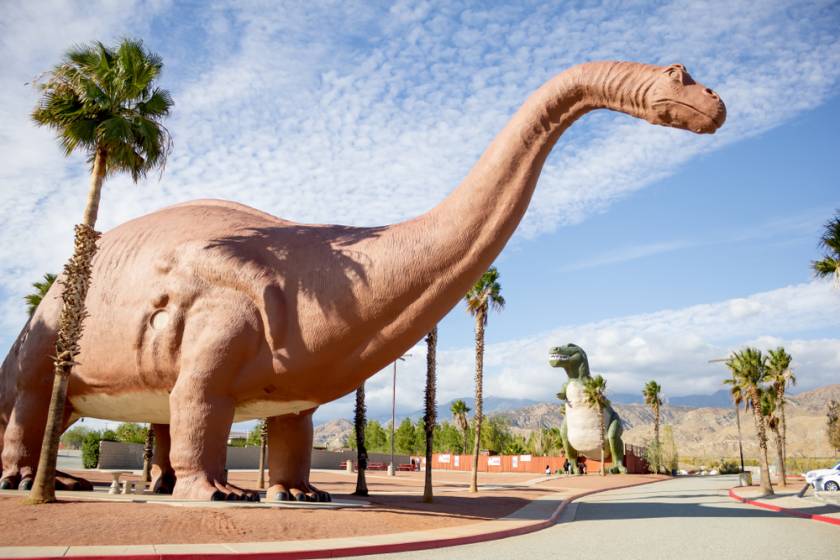 Photo Credit: The Image Party
Address: 50770 Seminole Dr, Cabazon, CA
The Cabazon Dinosaurs are just west of Palm Springs. These massive dinosaur replicas are about a 45 minute drive from your vacation rental in PGA West in La Quinta. Although you might initially regard this place as an attraction for children, if a unique picture is what you're after, it's well worth the visit here.
Plus, these dinosaurs have been featured in a handful of movies. It's not everyday you can snap a selfie with a Hollywood star!
Parker Palm Springs Hotel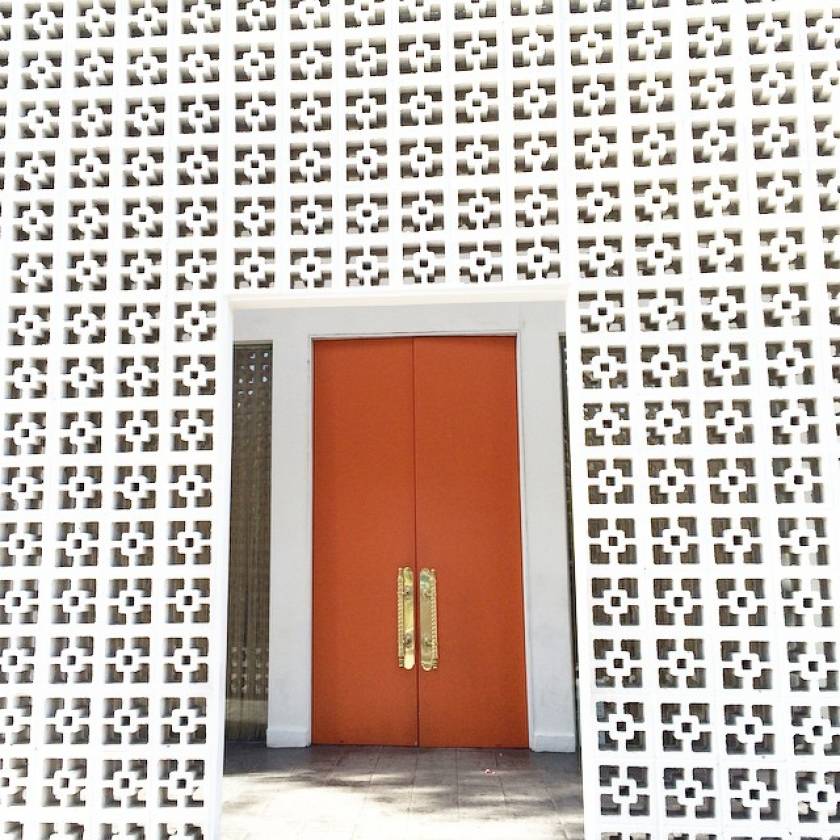 Photo Credit: bohowild
Address: 4200 E Palm Canyon Dr, Palm Springs
The Parker Palm Springs Hotel is another Instagrammable spot, this one designed by Jonathan Adler.
The entire place has great spots to take a pic, but the entrance is one of the more popular ones. It's a simple design, a white pattern wall with a vibrant orange door. But, if you haven't noticed already, a brightly colored door is really all you need for an excellent picture.
The Saguaro Hotel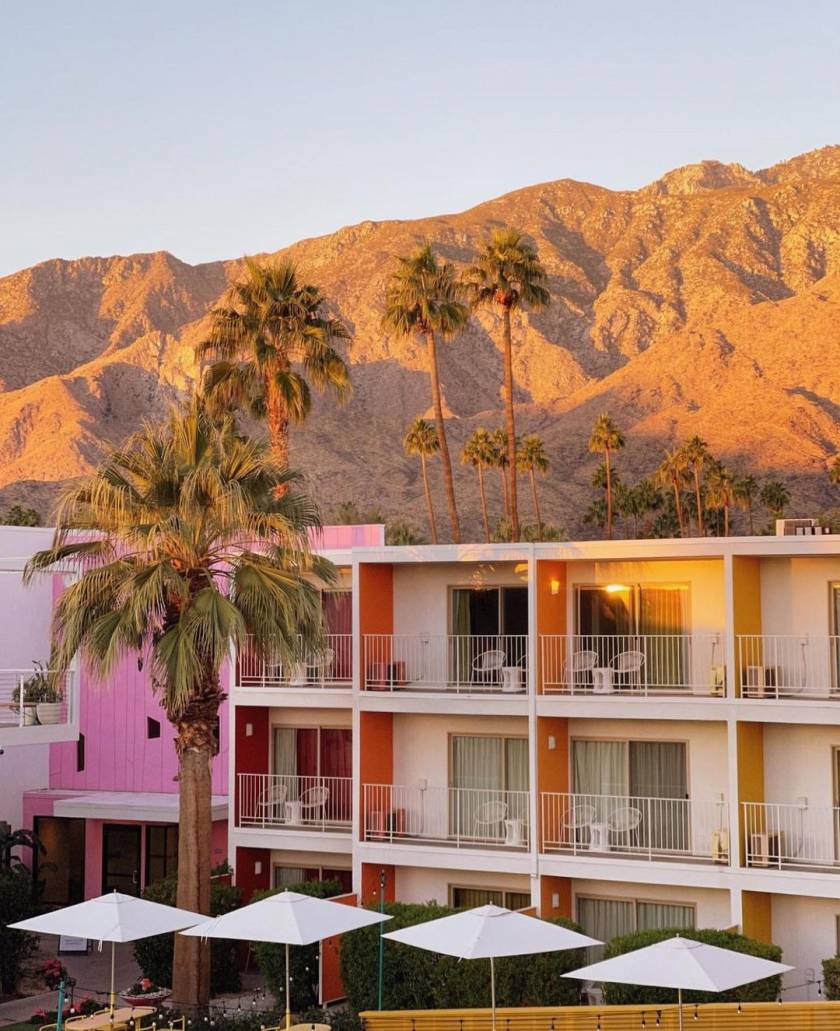 Photo Credit: saguarohotels
Address: 1800 E Palm Canyon Dr, Palm Springs
Another Insta-worthy hotel is the Saguaro Palm Springs, which is also referred to as the rainbow hotel, and there is no question why when you see all of its colors.
You won't lack from choices of places to get your next great Insta pic. By the pool, you'll get great backdrops of the colorful walls and balconies at the hotel with palm trees.
The hotel is a popular place for Instagram influencers and bloggers thanks to the great photo opps, so if you fit in one of these categories, or want to be one of these people, this is a great place to socialize and meet others in the industry.
Palm Springs Windmills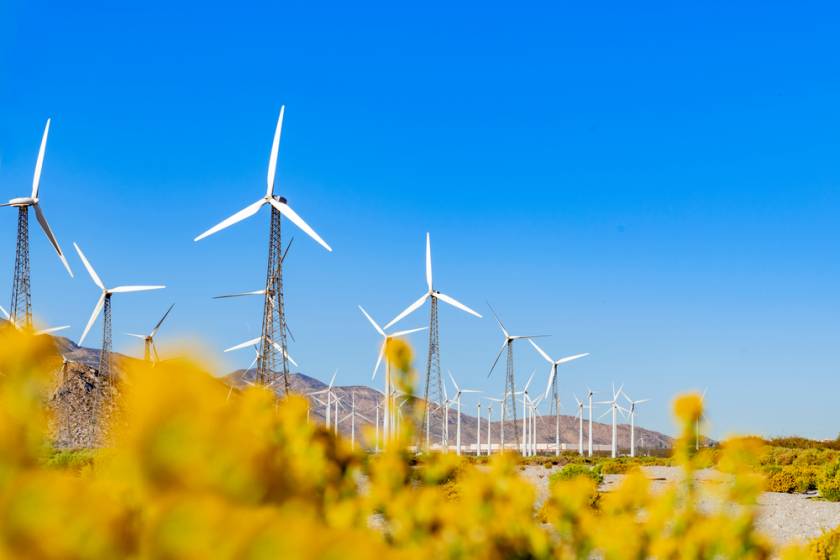 Photo Credit: Moyano Photography
Address: 62950 20th Ave, Palm Springs
One of the more unique places in Palm Springs that have become a hit for Instagram pics is the windmills. They are actually wind turbines, not the windmills you picture from fairytales.
There are over one thousand windmills here that make a great backdrop for pictures, along with the desert landscape.
Once you get to the windmills, take some time exploring the area to find the best spot for your pictures. The area is massive, so it shouldn't be hard to get a great picture with no people in it no matter when you visit.
The Ace Hotel and Swim Club

Photo Credit: jacpot_
Address: 701 E Palm Canyon Dr, Palm Springs
The Ace Hotel is a hipster-style hotel that used to be a motel. The hotel has a beautiful backdrop of the mountains and a lot of good spots for a picture, especially outside.
More than any others on this list, this hotel really optimizes Palm Springs in one small space. From the white adobe-esque architecture, to palm trees, and Santa Rosa Mountains in the backdrop, this is the perfect place to showcase Palm Springs in one great picture.
JW Marriott Desert Springs Resort Hotel & Spa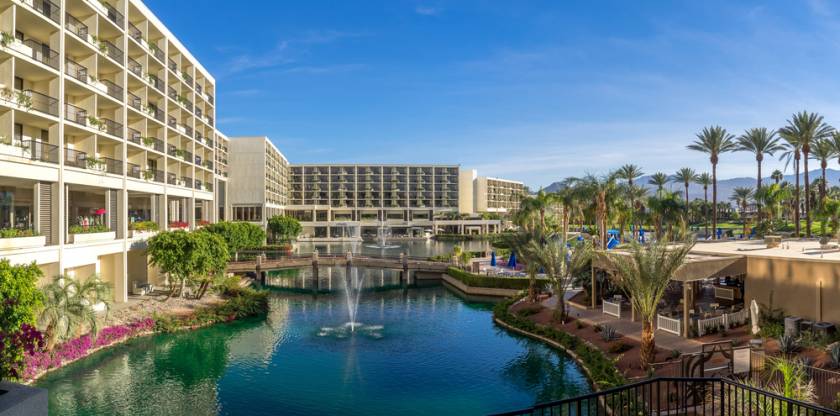 Photo Credit: Jeff Whyte
Address: 74-855 Country Club Dr, Palm Desert
Hotels in Palm Springs have some of the best Insta-worthy spots, and so do the ones in Palm Desert like the JW Marriott Desert Springs Resort Hotel & Spa.
The resort sits on a couple lakes with great desert views and palm trees to use in your photos. Even the lobby inside the hotel is stunning and modern. Grab a drink at the bar inside the hotel and use it as a prop in your photos.
The best part of the hotel is the flamingos that live on the property on one of the lakes. A picture with their lake in the background makes for an awesome pic.
A great way to see the flamingos and other animals, like swans and cockatoos, is to go on a tour around the property. The animals are cool, but it's also another great way to get, you guessed it, some cool pictures for Instagram.
Palm Canyon Drive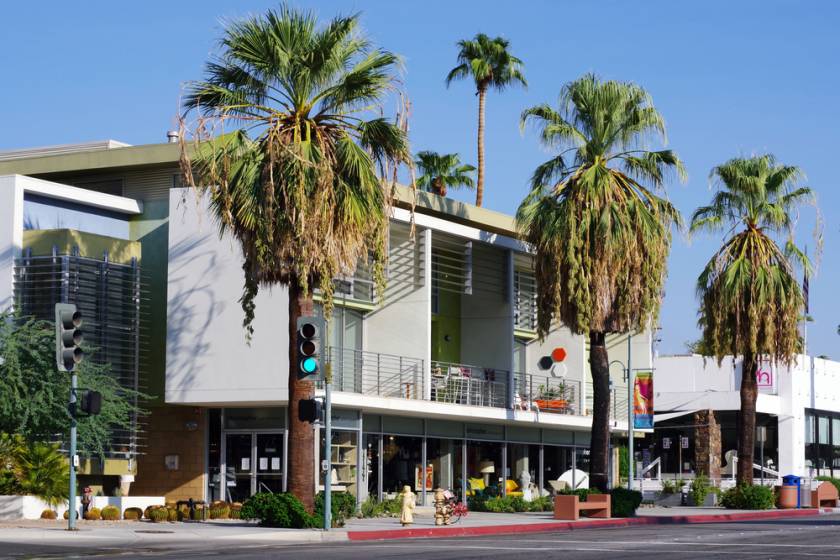 Photo Credit: Noah Sauve
Address: Visitors Center, 2901 N Palm Canyon Dr, Palm Springs, CA 92262
Palm Canyon Drive is the main street that runs through Palm Springs. The buildings on the street have beautiful architecture, which everyone will appreciate, Insta-model or not, and some of those popular colorful doors.
And, if you arrive in the morning before traffic gets bad, you can get some great pictures on the palm tree-lined streets. If you can only spend one day doing a Palm Springs photoshoot, Palm Canyon Drive is a great place to get a lot of great pictures and get a good feel for Palm Springs.
Start your adventure down Palm Canyon Drive at the Palm Springs Visitors Center. You can get some great pictures at the former tramway station, as well as maps, souvenirs, postcards, and more!
The Shops At Thirteen Forty Five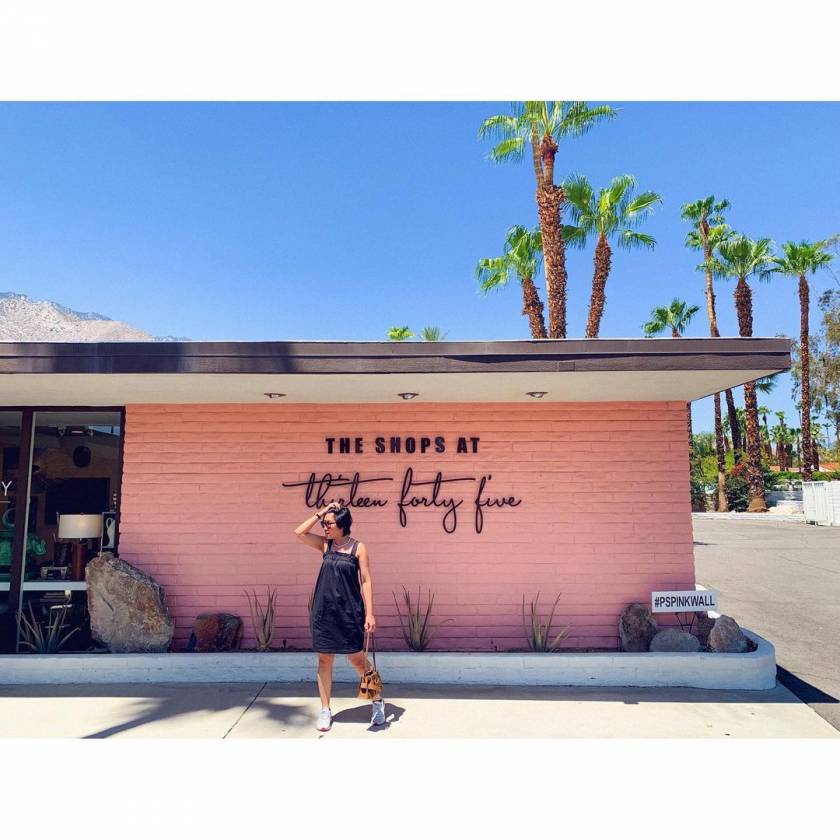 Photo Credit: littlepinezz
Address:
1345 N Palm Canyon Dr, Palm Springs
The Shops At Thirteen Forty Five are one of the spots you'll run into on Palm Canyon Drive. It is home to the Insta-famous pink wall, which people show off with #psPinkWall.
The exterior part of the building is the perfect Insta spot, but you should spend some time inside, too, shopping and admiring the art at the art galleries.
Kreem Ice Cream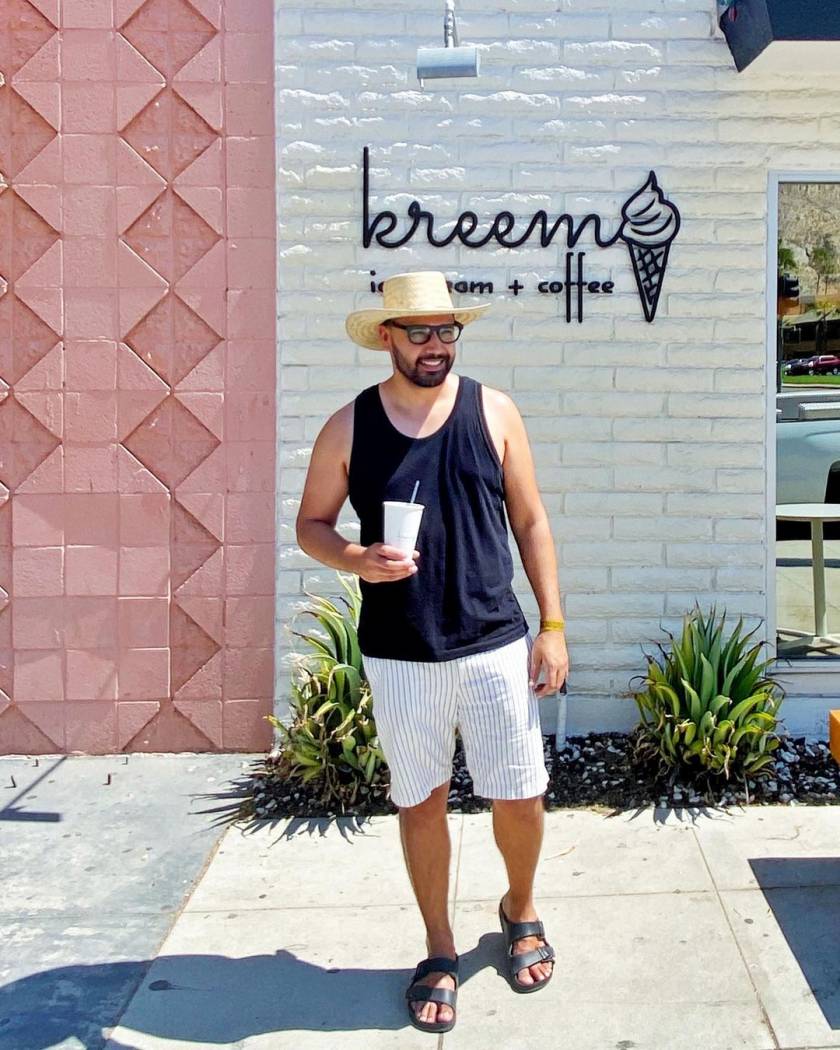 Photo Credit: martydiazz
Address: 170 E Palm Canyon Dr, Palm Springs
The desert gets HOT, so you'll want a break from outside pictures to grab some ice cream, but that doesn't mean a pause on great pictures.
The ice cream is good and the shop is so cute, both inside and out, so be sure to grab some pictures posing with your ice cream here.
Like many places in Palm Springs, Kreem closes for a summer break every year, so check their website for opening times.
Joshua Tree National Park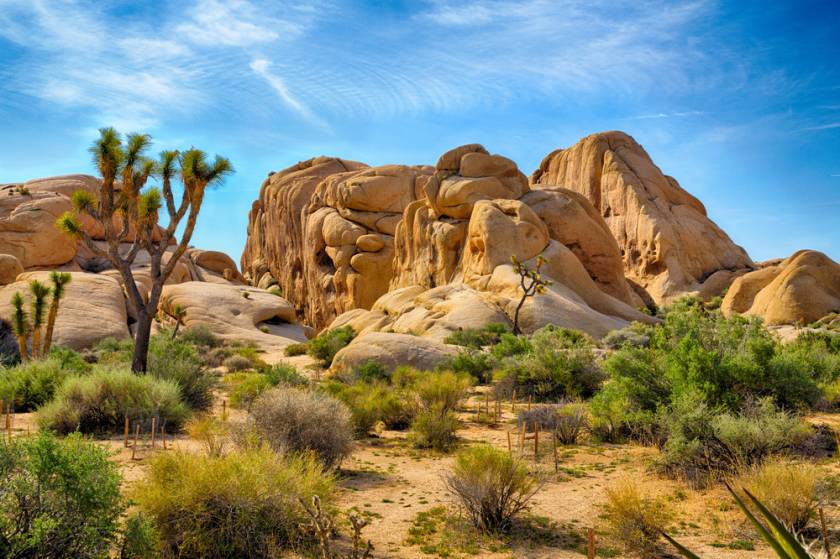 Photo Credit: Gary C. Tognoni
Address: West Entrance Visitors Center (closest to Palm Springs), 6554 Park Blvd, Joshua Tree
Joshua Tree National Park is one of the best places for pictures if you want to do an entire photoshoot. No matter where you are in the park, you'll find a great desert landscape for the background of your picture.
Here are some of the best photo spots in the park if you want some of the most popular.
With a Joshua Tree (Duh!)
Skull Rock
Keys View
Cholla Cactus Garden Trail
Arch Rock
Barker Dam
Cap Rock
Just remember these places will get busy, so the best times to come are when the park first opens, or golden hour, which is never a bad time to take pictures.
Frank Sinatra's Twin Palms Estate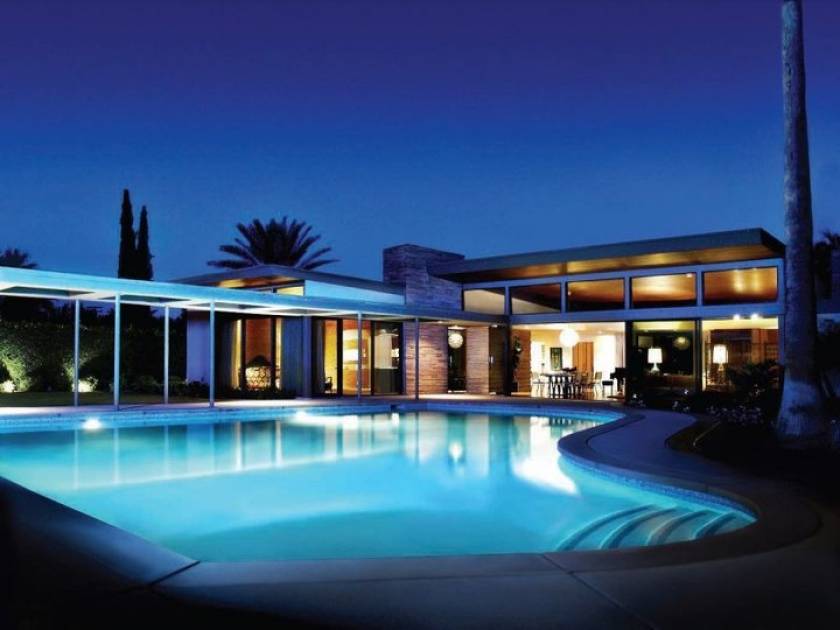 Photo Credit; modernism_week
Address: 1145 E Vía Colusa, Palm Springs
One of the coolest places for both fun and good picture spots is Frank Sinatra's Twin Palms Estate. It is one of the nicest homes in Palm Springs, and you can rent it out for a photoshoot, a dinner party, or any other event.
However, you do have to rent the house out if you want to get pictures here. But, since not everyone can come here, you know it's a perfect spot for unique pictures if you can get in.
Salvation Mountain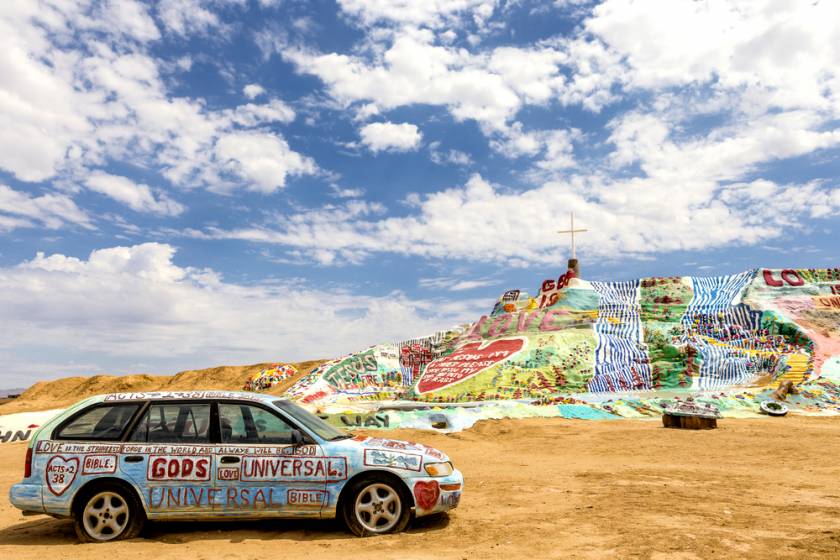 Photo Credit: Ovidiu Hrubaru
Address: Beal Rd, Calipatria, CA
Salvation Mountain is a bit of a drive from the Palm Springs area, but if you want to explore more of the area or are on a road trip, this is a great place to stop.
The mountain is 84 miles southeast of Palm Springs, and it is covered in colorful religious art, designed by Leonard Knight. It's actually a man made mountain, which is more like a hill, so don't worry about hiking too much. The entire mountain is full of great places to get pictures.
Hotel California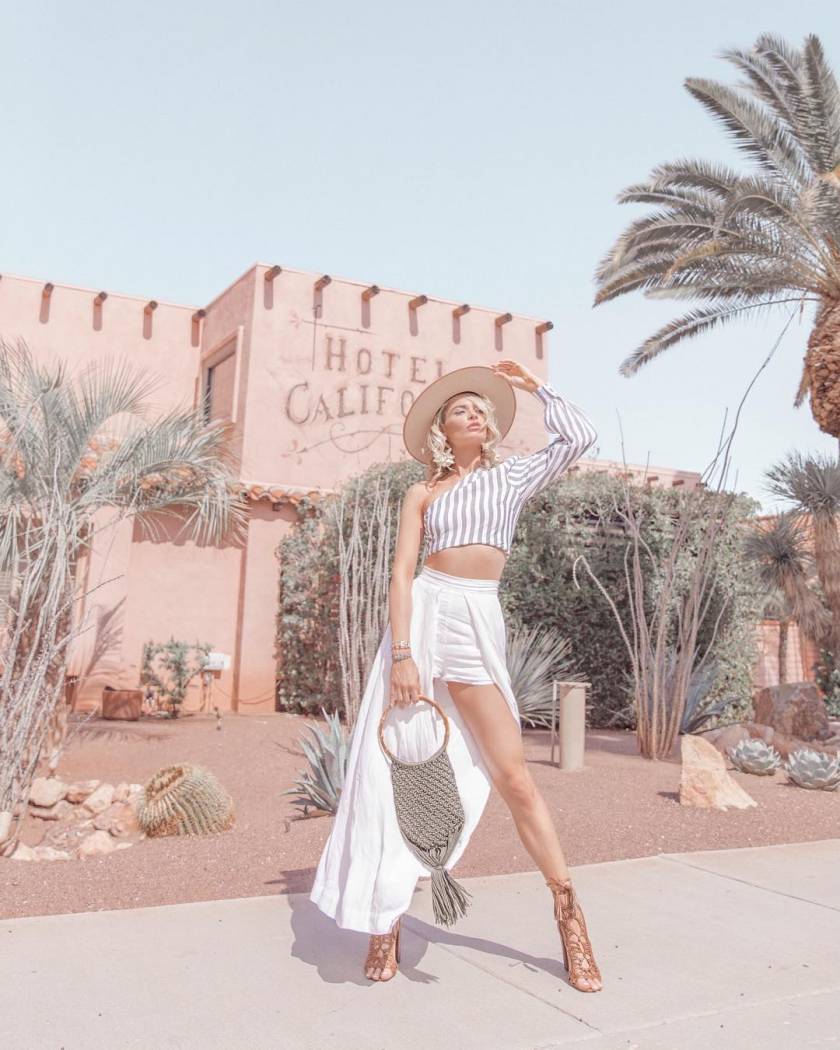 Photo Credit: evaacatherine
Address: 424 E Palm Canyon Dr, Palm Springs, CA 92264
Hotel California, fittingly located in Palm Springs, California is another cute place to stop for Instagram pics. The pool is a great place for pictures, as is the exterior of the boutique hotel.
It's not THE Hotel California (re: the Eagles) but it is an adorable hotel perfect for all your Instagram needs.
Boozehounds Palm Springs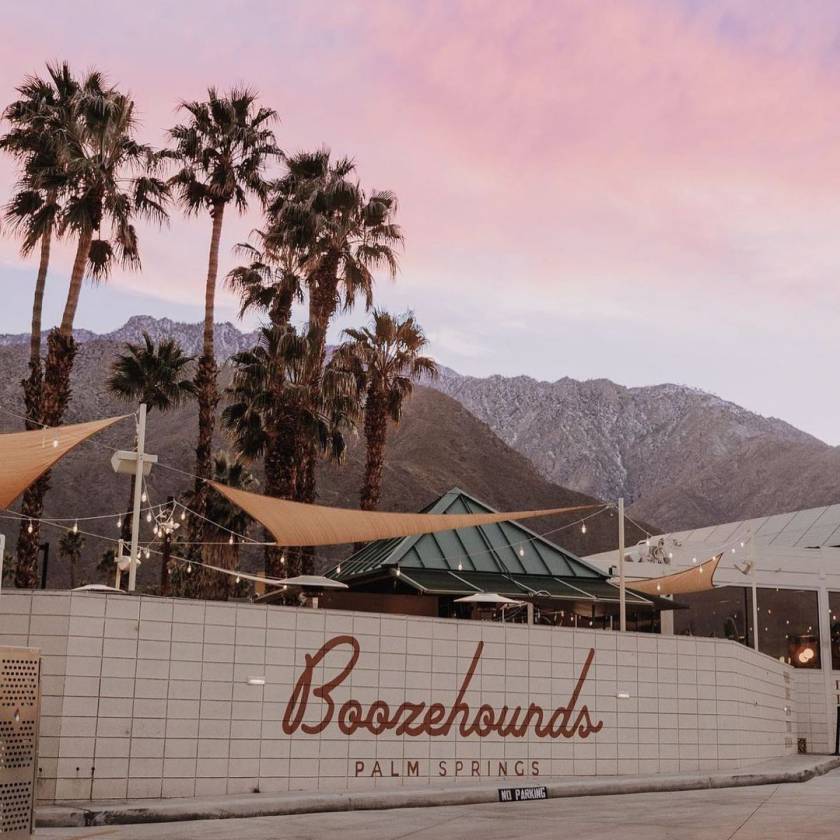 Photo Credit: boozehoundsps
Address: 2080 N Palm Canyon Dr, Palm Springs
For a cute place to eat while you grab some pics, stop at the Boozehounds Palm Springs. The restaurant and bar serves brunch, cocktails, and classic California plates. You can bring your dog here to enjoy the patio, so you can get a picture with your favorite furry friend.
And, be sure to stop in the bathroom, which might be the most Insta-worthy spot here with its colorful red decor.
Grand Central Palm Springs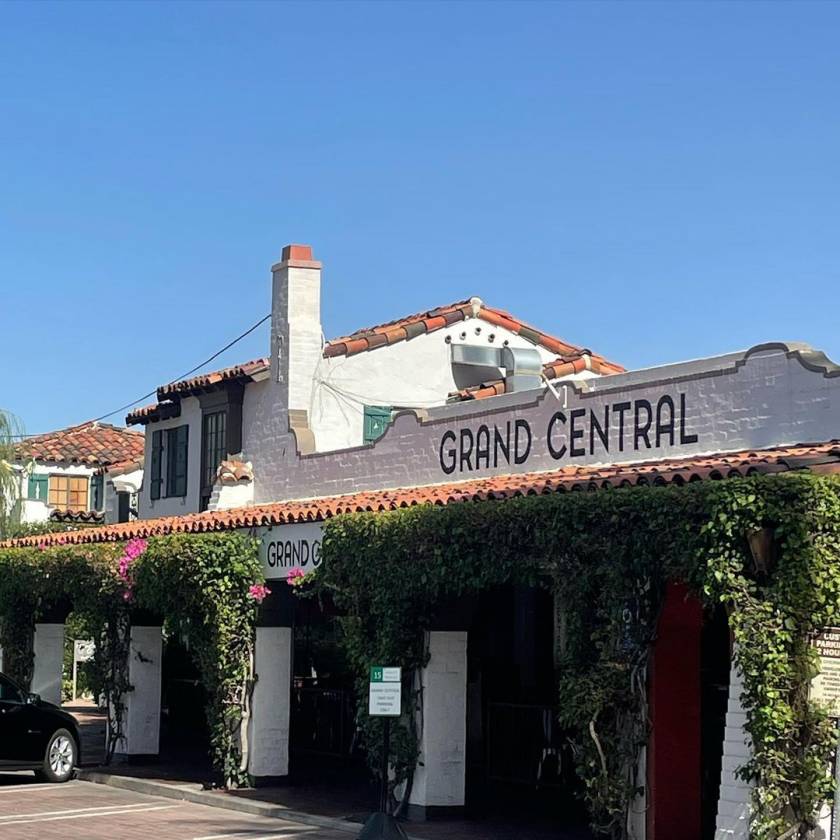 Photo Credit: grandcentralpalmsprings
Address: 160 La Plaza, Palm Springs
Grand Central Palm Springs is another cute place to eat, especially for foodies. They serve coffee, colorful cocktails, and food, all of which makes for aesthetic pictures in the simplistic dining area. The outside is a cute area with greenery and flowers where you should take a photo too.
Desert X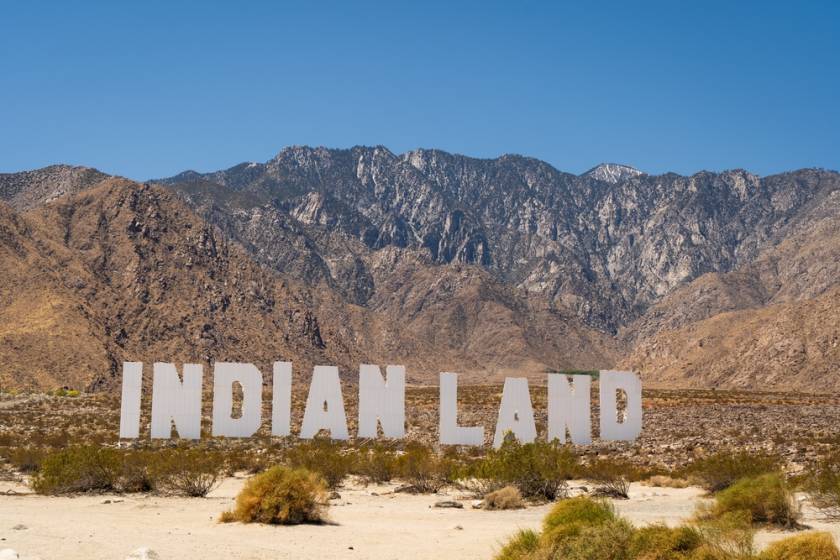 Photo Credit: Nachtrieb Productions
If you visit Palm Springs during the right time, you can attend Desert X, an outdoor art exhibition that is held in Coachella Valley every two years. The exhibition takes place in the spring of every odd numbered year (2021, 2023, etc.).
If you want some of the most unique pictures in Palm Springs you should come to the art exhibition where you can admire some of the best art in the world.
Coachella Valley Music and Arts Festival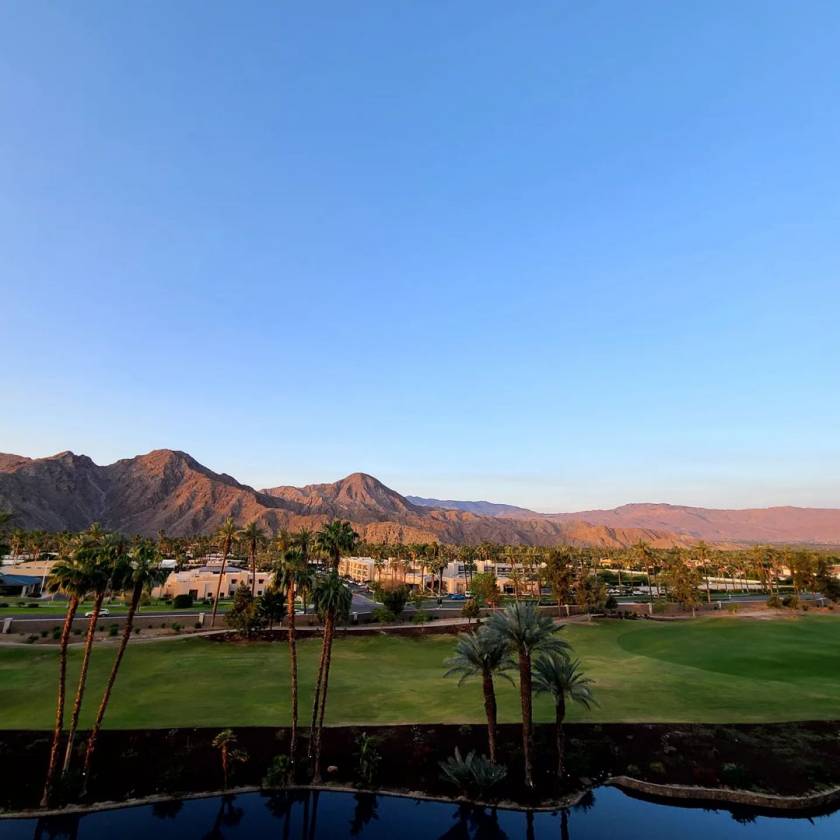 Photo Credit: bigroad_nam
Address: 81-8000 Avenue 51 in Indio, CA
Finally, if you visit Palm Springs during the Coachella Valley Music and Arts Festival, commonly referred to as just Coachella, you have to attend the festival for some of the best photo ops.
There are some classic photo spots like in front of the ferris wheel or in front of one of the stages, but explore the grounds to find the others. And, the fest is a great place to find your own spots and not just go to the ones you see on Instagram all the time.
Keep in mind that the festival takes place over two weekends in April each year. The exact date of the festival changes each year, so be sure to check the event for this year's dates.
~~
With this, you're ready to memorialize your vacation to the Greater Palm Springs Area with plenty of pictures to share with your friends, family, and followers. While only a small town, La Quinta and the nearby area packs a powerful punch and has plenty to see, do, and share with its visitors.