A Visitor's Guide to PGA West, La Quinta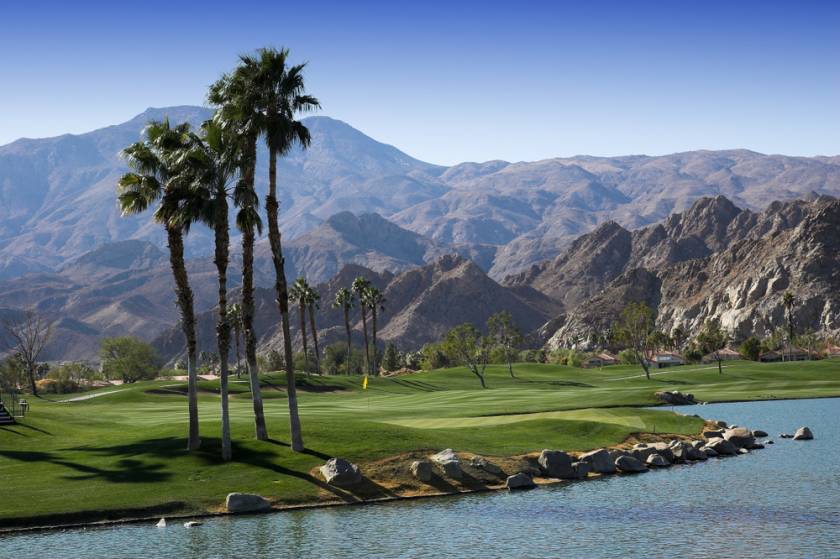 Photo Credit: Isogood_patrick
PGA West is a picturesque, luxury residential association and golf community surrounded by the Santa Rosa Mountains in the Coachella Valley. While golf is the focus of PGA West, you don't have to be a golfer to enjoy your stay in a Tuscan-style villa, surrounded by the lush green of the fairway and the beautiful mountain views.
While 4 of the courses here are private courses, 5 are open to the public and ideal for a casual round with your friends or family. Since they all offer different greens and views, if you have time, book a round for a handful of the top public courses in the area.
Between the amenities you can enjoy at PGA West, and the comforts of your luxury vacation rental home, your stay will be unforgettable.
If you're curious about what your vacation at PGA West will look like, read on, because this article covers everything you can enjoy during your stay.
Enjoy an Incredible Location
PGA West is located in the quaint desert town of La Quinta, in the greater Palm Springs area. The golf resort is nestled right up against the foothills of the Santa Rosa Mountains, giving the area a sense of natural seclusion and serenity.
Despite the amazing natural landscape, PGA West LA Quinta is still hardly a 6 minute drive from downtown La Quinta, where you'll find a plethora of amazing restaurants, great shopping, unique art galleries, and more.
Given its location in Greater Palm Springs, the weather at PGA West is amazing year round. The warm desert air and clear, sunny days of La Quinta make for perfect weather for lounging by your pool with a drink in hand nearly all year round.
You'll be equally entranced by the views from our vacation homes. From the comfort of your backyard, you can enjoy views of the perfectly manicured fairway, with its gentle slopes and serene water features. Or, you can choose a home with a view of the Santa Rosa Mountains, where you can enjoy particularly incredible views of colorful desert sunsets.
Can't make up your mind? We also have rental properties with both views of the fairway and the surrounding mountains.
High-End Clubhouses and Delicious Dining
PGA West has three resort clubhouses that are open to the public where you can shop, dine, and enjoy amazing views of the courses below.
Tournament Clubhouse
The Tournament Clubhouse has incredible views of Jack Nicklaus Tournament and Pete Dye Stadium golf courses, along with a golf shop, Ernie's Bar & Grill, and the Golf Academy.
Ernie's Bar & Grill
If you're looking for delicious homestyle fare in a casual, sports bar setting, Ernie's Bar & Grill is a wonderful option. Their patio has an incredible location overlooking the green, where you can watch golfers play while enjoying your meal. If you prefer to dine inside, Ernie's Bar & Grill also has an elegant interior with televisions and a wrap-around bar.
The cuisine at Ernie's Bar & Grill highlights American classics like chicken wings, burgers, steaks, and nachos. However, they take it a few steps further by also including a variety of delicious pizzas, and a few unique offerings like their Spicy Tuna Poke Bowls, and Shrimp and Scampi Lemon Pasta.
Ernie's Bar & Grill is open for lunch and dinner daily.
Greg Norman Clubhouse
The Greg Norman Clubhouse is Australian-ranch inspired indoor/outdoor space complete with spectacular views, Wallaby's West restaurant, and a Golf Shop. It's a wonderful place to relax by the fire while sipping your morning coffee or enjoying lunch after a morning by the pool.
Wallaby's West
Wallaby's West serves breakfast and lunch daily with an outback-inspired dining atmosphere. They serve delicious, classic California breakfast favorites like avocado toast, along with rancho-inspired dishes like their huevos rancheros and Chilaquiles.
For lunch, you can enjoy delicious salads and sandwiches made from scratch with all fresh ingredients. Wallaby's West also has a full bar where you can enjoy exquisite California wines, signature cocktails, and beers on tap.
If you're looking for a quick breakfast bite, Wallaby's also has tons of great breakfast options to-go like their breakfast burrito and croissant sandwich.
Exquisite Luxury Homes
Luxury is in the details. That's why our vacation rentals feature an array of amenities designed to make your stay as comfortable and enjoyable as possible. From top-of-the-line appliances to private pools and hot tubs, our luxury homes have everything you need to relax and enjoy your vacation.
Private Pools
One of the best parts of a vacation to PGA West is enjoying the hot, desert sun from a poolside lounger. All of our rentals are equipped with a private, saltwater pool, where you can swim, soak up the desert sunshine, and enjoy the serenity of your surroundings.
All homes are also equipped with private hot tubs, where you can enjoy a rejuvenating soak from the comfort of your backyard.
The fun doesn't end there either, as PGA West is also equipped with several community pools where you can swim laps, relax, and enjoy your surroundings.
BBQ Island
The outdoor spaces in our rental homes are perfect for entertaining. Each yard is equipped with a BBQ Island where you can grill up a meal for the whole family or group to enjoy.
Margarita Mixer
All of our homes are equipped with an official Margaritaville Margarita Maker, so you can enjoy delicious, refreshing margaritas from the comfort of home. It doesn't get much better than sipping a margarita by the pool!
Newest Amenities
While staying in one of our resort homes, you'll enjoy brand new amenities to make your stay as comfortable as possible. You'll stay cool in the desert heat with air-conditioning, and spray misters on the patio. Staying connected has also never been easier, as you'll find 1 gig high-speed wifi connection throughout the house and yard.
All bedrooms come with their own HD TVs with streaming, and you can set the ambiance of the house to your choosing with a house-wide stereo system.
Kitchens are spacious, modern, and fully equipped with everything you need to cook for your group.
Other amazing amenities you can expect in the home:
Spa Robes
Fluffy towels
Frette Italian linens and duvetsFeather Pillows
Washer and Dryer
Enjoy your stay at PGA West La Quinta
If you're planning a vacation in the desert, it doesn't get much better than staying at PGA West. The desert scenery is truly spectacular, from the gorgeous sunsets to the majestic mountains.
PGA West La Quinta is conveniently located close to tons of amazing attractions in the area, but with so much to offer at PGA West and our homes themselves, we completely understand if you choose to spend your whole vacation by the pool! Whether you're seeking an active or relaxing vacation, PGA West has something for everyone.